By Lisa Wang
US-based ride-hailing service Uber Technologies Inc
yesterday announced partnerships with three small-scale Taipei taxi operators to set up its UberTaxi service, in its latest efforts to secure a licensed operation.
Uber Taiwan, a local arm of
Uber
Technologies, is transforming itself into a
taxi-hailing
platform from a vehicle-sharing service by collaborating with licensed cab drivers, as it faces mounting pressure from local regulators to exit Taiwan.
Since making a comeback in mid-April, Uber Taiwan has teamed up with more than 100 local car rental companies, which provide licensed drivers and cars.
"We do this in complete cooperation and working with local governments," said Brooks Entwistle, the firm's new chief business officer for the Asia-Pacific region, at a news conference in Taipei.
"This is what we want to do and what we are doing going forward."
Uber has launched its UberTaxi service in Myanmar, Malaysia and Sydney, Entwistle said.
Entwistle said the company could help boost earnings for local taxi drivers through its app.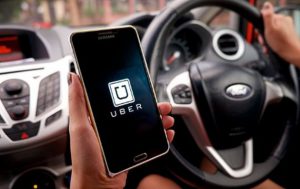 There are 30,000 registered taxi drivers in Taipei, who operate at a 30 percent utilization rate, meaning they spend most of the time driving around the city looking for passengers, Entwistle said, citing an unspecified survey.
"The 30 percent of utilization is a number we can do a lot on [the] Uber platform to increase dramatically," Entwistle said.
Starting today, the company's
ride-hailing app
allows users to arrange and schedule transportation and logistics services with third parties.
The San Fransisco-based company said it is providing its app to Crown Taxi (皇冠大車隊), Asia Pacific Satellite Taxi Co (亞太衛星車隊) and QTaxi, a new entrant to the market.
While the business model remains the same, a major change is that passengers using the new service are to pay according to the taxi meter, rather than by credit card or other digital payment systems at a price calculated by Uber.
During the initial stage of about three months, Uber is to offer the taxi operators free use of its platform, the company said, adding that it did not rule out offering similar services in other cities.
"We do not see Uber as a competitor — we are cooperating with each other," Asia Pacific Satellite Taxi president Chen Shin-chun (陳新鈞) told reporters.
"The cooperation means a lot for a small-scale fleet like us, as we could save the NT$3 million to NT$4 million [US$99,321 to US$132,428] it would cost build our own app."
"Taiwan's taxi-hailing industry is too traditional. We need to make a change to survive," Chen said.
Taxi drivers are only making half the income they used to earn 30 years ago, as the high-speed railway and the Mass Rapid Transit system have taken a toll on the business, Chen said, adding that about one-third of Asia Pacific Satellite's drivers have joined the program.