By Sanchit Khera
If there is a way to save cost, then a majority of the Indian consumers will try to check it out. That's been one of the more important ways in which ride sharing apps have been able to grow in a country like India.
The cost benefits to travelling with strangers far outweighs any potential problems arising from trust or theft. The route is typically the same, if you're commuting to and from work, and the journey burns a lot of petrol.
Now with the price of petrol almost reaching Rs 82 per litre, drivers must be vying for ride-sharing apps in large numbers. Although there are distributed players in the industry, there isn't any one competitor that's shining through the cycle.



Unlike Uber and Ola, ride-sharing apps don't share the same popularity or marketing budgets to reach mass audiences. Right now, their best bet is word of mouth and cost-incentives.
That's where BlaBlaCar comes in. With it's ride-sharing community, it has the power to change the way that Indians think about comfortable travelling. Take for example a typical journey from Mumbai to Pune.
The ride will cost you around Rs 350, whether you travel from BlaBlaCar or via an inter-city bus. With the BlaBlaCar, you can request scheduled stops, have pleasant company and be dropped exactly where you need to. There is also a GPS-enabled ride tracking app for increased security and tracking. You have complete control even though you're riding with a stranger.
More broadly, if we look at the ride-sharing concept from a taxi-aggregator point of view, the cost benefits are immense. With Uber and Ola offering pool-share rides for a few years now, customers are quite accommodating within the crowd of a pull vehicle. With the added incentive of air-conditioning and confirmed rides, there is little incentive for them to coopt other methods.
"We have seen a high uptake for the category on both the customer as well as the driver partner side. Cities such as Delhi, Bengaluru, Mumbai, Hyderabad and Kolkata are the biggest users of Ola Share," said Vishal Kaul, COO Ola.
A recent Uber and BCG report showed that congestion is going to cost the top four cities in India upwards of $22 billion a year. With more cars being introduced to tier-2 cities as well, that problem is going to mount over time. With the availability of ride-sharing, the propensity to purchase a low to mid-tiered vehicle also goes down.
As is the case with space utilization, there is also a significant trend of reduction in dedicated parking spaces as more people prefer to ride-share.
For these app companies, there is profitability in movement. The more the demand for the apps, the more these cars are constantly moving around. A dead-stop vehicle or one that hasn't been activated for a long period is a waste to the system.
For Uber and Ola, it's about 30% of all rides, but the trend continues to go upwards indicating that more Indians want to try these services at an affordable shared-rate.
"With carpooling, Ola and Uber are getting customers who would not otherwise use their services on a daily basis because of the prices. So, the companies are getting access to a set of customers who are cost-conscious, do not use a cab on a daily basis and instead use a bus or an auto rickshaw. Most of these consumers are young professionals.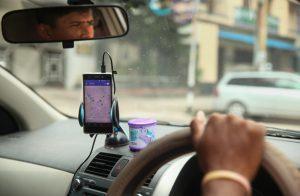 Over time, they will graduate from using a shared car to booking an entire cab, which makes it a brilliant strategy to onboard new customers, said Sreedhar Prasad, partner, e-commerce and start-ups, KPMG India.
All in all, the demand for these ride-sharing apps is increasing and the country is running on it daily.
When it comes to the smaller players, there's Ride which is offering a social carpooling experience. They even work with leading companies to take care of their transportation needs as well. For commuters, concepts like these make a lot of sense as they traverse the same route more than five times a week.
"The payment aspect is a one-to-one deal between the driver and the person availing the ride. However, at Rs 3/km, it is as cheap as using a public transport, yet offering the convenience of a car," said Nitin Chaddha, Business Development Officer of sRide.
There's also ToGo, Ridely and a host of smaller players that offer a social riding experience. They haven't yet taken scale, the way that traditional aggregators have and are still trying to find that next big leap.
This could be an indication as to the trust factor for many Indians, who would rather befriend a few colleagues and ride-share individually. However, for travelers going inter-state and for those who aren't able to travel with others, it's a great way to save cost and protect the environment.