By Erika Echternach

From Shanghai to Barcelona bike share programs have become an international phenomenon, so why has Sydney sent multiple bike share operators packing?
Of the four bike sharing companies currently operating in Sydney, two of them, ofo and Reddy Go have announced their departure from the city less than a year after their introduction.
The speedy departure of dockless bike sharing programs will come as a relief to the many Sydneysiders who became sick of seeing heaps of abandoned bicycles littering the streets.
But none will be quite as relieved as Sydney's councils, which were held financially responsible for disposing of any unclaimed bikes dumped within their respective jurisdictions.
In response to the sweeping issue of bikes strewn across the city, six councils — Canada Bay, City of Sydney, Inner West, Randwick, Waverley and Woollahra — created the "Inner Sydney bike-share guidelines" in March to clarify their expectations of how dockless bike share companies should handle illegally parked bikes.
The Waverley Council area in particular has been heavily impacted by the misuse and abuse of dockless share bikes.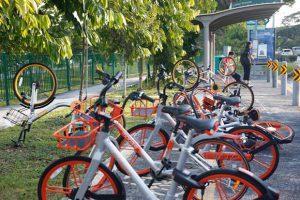 Waverley Council mayor John Wakefield said the Council had impounded 107 share bikes left in public spaces to date, of which about half had been reclaimed prior to the companies announcing that they are leaving the market.
Share bike company ofo collected 52 bikes and paid impound fees of $3640, Mobike collected eight bikes and paid impound fees of $560, and 33 bikes belonging to oBike and 14 belonging to Reddy Go remain unclaimed, Cr Wakefield added.
Australia had one of the poorest responses to bike sharing globally, with the average bike in Sydney being used for 0.3 trips a day as opposed to two to six trips per day in other countries, according to Nine News.
Aside from the vandalism and misplaced bikes, local laws do little to boost bike sharing in Australia.
Cr Wakefield said bike sharing was a great concept, but its success was hindered by the inadequate existing legislation that forced local communities to bear the costs of abandoned bikes.
"Had bike share operators worked closely with the community, and with Council, the opportunity for the schemes to work would have been far greater," Cr Wakefield said.
Locals seem to think bike sharing in Australia is doomed. One Sydneysider, Dave, explained that the success of share bikes in Australia has been inhibited by the controversy surrounding them, which had made using them less appealing.
"It's very politically charged," Dave said.
Another share bike user, Carl, pointed out that there simply isn't a market in Australia for share bikes.
"Do you see anybody else riding them?" Carl asked, motioning toward the bikeless streets around him. "It's not going to work. People in Australia just don't ride bikes."
Non-locals have become less keen on Australia's bike share as well. Australia and New Zealand are currently the only two countries in the world that enforce universal use of helmets by cyclists, which the majority of backpackers aren't used to.
Always needing to have a helmet deters light-packing travellers from properly partaking in bike sharing said James, a visitor from the United States.
"A lot of people from other countries aren't used to wearing a helmet," James said. "It's hard to keep the bike and helmet together, so people just ditch the helmet."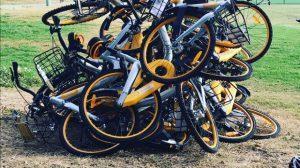 Another backpacker agreed that the lack of consequences for dumping bikes and helmets wherever they want discourages people from carefully parking bikes appropriately.
Ofo stated that the company was leaving Australia to "focus on priority markets internationally," implying that there is greater demand for share bikes across other sections of the globe, and indeed there is.
Between 2013 and 2016, the number of bikes available for public use around the world more than tripled from 700,000 to almost 2.3 million, and the numbers continue to grow.
The increasing popularity of opting for bikes in favour of other modes of urban transportation has prompted the rapid expansion of bike share companies in countries such as the United States and China, suggesting that dockless bike sharing could be the way of the future.
Does this mean that Sydney is destined to fall behind the global trends? Not if Cr Wakefield can help it.
"Bike share systems can work, and we certainly don't want this to be the end of bike share in Australia," Cr Wakefield said. "What we do want is for better regulation and for better partnerships with these operators, so we can work together for the benefit of the end user, which is the community."
Cr Wakefield said the council established a Bike Advisory Committee in March that will prioritise bike share and making the area more bike-friendly.
"Cycling is a huge priority for us at Waverley Council, and work begins next month on the much anticipated $12 million Bondi Junction Cycleway," Cr Wakefield said.
The cycleway is the missing link in the bike route between the eastern suburbs and the CBD, which the council began designing and planning in 2014.
So far, Waverley Council has contributed $2.4 million for the project and works are expected to be completed by late 2020.