Monday's announcement Canberra's first dockless
bike share scheme
trial is about to begin will spark a lively, probably even colourful, community debate.
That's because few subjects can match bicycles for their power to generate controversy within the Territory.
Then there is the chequered history of
bike sharing schemes in other Australian cities
and the ongoing debate over the future of public transport, including the roles of cars, light rail, buses and bicycles in the ACT.
Until now the place of bikes in our daily transport mix has been the realm of owner riders who have fallen into two camps.
The first are the die hards who undertake almost epic daily round trips from the outer suburbs to their place of work regardless of the time of year or the weather.
The second are the people who drive to a "park and ride" facility before pedalling to the office. As well as getting some wholesome fresh air and exercise they also save a fortune on parking fees.
A bonus for both has always been that once at their destination they have access to their two-wheeler for short trips.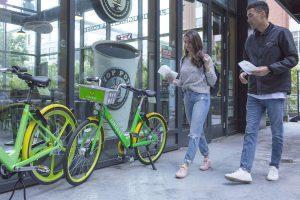 The major benefit of a bike share arrangement, such as the one about to be trialled by Airbike from July 30, is it allows anybody, whether they came in by car, bus or, in the future, by tram, to do the same for $1.30 per 30 minutes.
Airbike users, like existing cycle commuters, also stand to benefit from the significant investment the ACT Government has made in cycle paths and related infrastructure.
This investment, which reflects the fact Canberra's topography makes it bike-friendly and has contributed to a high level of recreational cycling, lends itself to the Airbike model.
That infrastructure, coupled with the estimated 26 per cent of people who could be willing and able to use a bicycle for short trips even if they don't bring their own wheels to work, is why bike share stands a better chance of succeeding here than probably anywhere else in the country.
What Airbikes and the ACT Government need to be wary of is this might not be enough to offset the vandalism and haphazard, and dangerous, dumping of bikes in public places, that have beset similar schemes elsewhere.
Sydney, for example, just this month saw Reddy Go announce it was pulling out of the market.  The news came days after
Chinese bike share giant Ofo
said it was closing down all its Australian operations.
oBike, a Singapore-based company has already closed its Melbourne operation following tough new regulations imposed by Victoria's Environment Protection Authority.
All of these companies had suffered a public and regulatory backlash against their operations with six Sydney councils forming an alliance to impose strict new guidelines last December.
These included mandating shifting dangerously dumped bikes within three hours; having a manned repair service; being available to unlock bikes when requested by ordnance officers; ensuring all bikes had bells, helmets, lights, reflectors and kick-stands; and having public liability insurance.
The only way to guarantee Airbike succeeds in Canberra is to address these issues from day one and to ensure all share bike users act responsibly.