By NAOATSU AOYAMA/ Staff Writer
Following in the tire tracks of other automakers, Nissan Motor Co. will introduce a car-sharing service, which allow registered members to rent and share vehicles, in January.
Honda Motor Co. and Toyota Motor Corp. have also put the pedal to the metal and entered the car-sharing business.
Nissan on Dec. 8 began accepting membership registrations on the website of its service, which the company has named "e-share mobi" (https://e-sharemobi.com).
For the time being, the company will keep one vehicle–either of its Leaf electric model or a gas-electric hybrid variant of its Note compact model–at each of its 30 or so stations to be located in nine prefectures, including Tokyo and Osaka.
A driver's license card with an embedded IC chip will be used to unlock a car, whose rental fees start at 200 yen ($1.77) for 15 minutes.
Car-sharing services are catching on with customers for their convenience of use, which does not require a formal storefront.
The Times Car Plus service, operated by market leader Park24 Co., had 20,000 cars available at 10,000 stations across Japan as of the end of October 2017.
Compared with five years earlier, the number of stations had grown threefold, the number of vehicles had quadrupled, and the number of memberships had increased six times.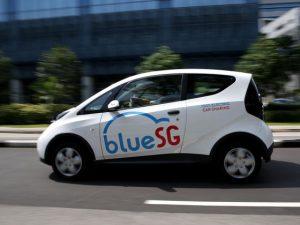 Honda began test-operating a car-sharing service in Tokyo in November 2013. It keeps a total of 140 or so vehicles at 90 or so stations and has 11,000 registered members.
Toyota has acquired a stake in a U.S. business venture that operates a peer-to-peer car-sharing service, with which the automaker is test-operating a car-sharing system.
Both Nissan and Honda are offering their "pick-of-the-bunch" models in their car-sharing operations. They are hoping that use by a broad customer base will lead to stronger subsequent sales of its automobiles.
For those worried about making an impression by showing up in a rental: Park24 on Dec. 8 released survey results showing that 52 percent of 20-somethings said there is "no problem" in going on a date in a rented or shared car.