Paris mayor Anne Hidalgo showing off her scooter. Image: Getty.
The mayor of Paris, Anne Hildago, is fighting for a cleaner, healthier
city
.
The city has one of the 
densest
metro systems in the world, its bicycle sharing platform is 
Europe's largest
, and in 2011 it opened an electric car sharing service that carries Parisians 
93,000km
 ever day – yet the private car remains a backdrop to Parisian life.
And so, like many mayors before her, she has made private cars the principal target of her efforts to reduce air pollution.
Hildago's latest effort to tempt motorists away from their cars is 
CityScoot
, an electric moped sharing scheme.
The service has grown by more than 500 per cent in the last year, now maintaining a network of 1,000 scooters across Paris, and is accessible to anyone with a driver's license via a smartphone app. The service is paid for by the minute, with no contract required.
The 
CityScoot
 pitch is an attractive one: collect your electric moped from anywhere in inner Paris, ride it to your destination – for slightly more than a bus or metro ticket but less than a taxi – and then park it wherever is convenient and legal, no charging point required. I went to Paris to find out if 
CityScoot
 lives up to its promise.
I signed up with 
CityScoot
's
smartphone app,
which also controls the service.
I uploaded photographs of my driver's licence (car or moped, with free voluntary lessons available for those new to two wheels), handed over my card details and was ready to ride. The service costs 28 cents per minute all in, or 20 if purchased in bulk.
Reserving a scooter was simple.
I selected the nearest of the hundreds visible on the app, yielding a four-digit code that unlocked it when entered on the scooter's key pad. Rather than carrying my own, I used the helmet and hair net under the saddle and stored my bag in the compartment.
I zipped away from the lights much more quickly than any car on the road, but nowhere near as quickly as Paris's ubiquitous peloton of lunatic motorcyclists, who zip effortlessly through tiny gaps between cars at high speed.
I easily passed gridlocked traffic and jumped to the front of the queue at lights. 
CityScoot
s can run at 28mph, which is ample for inner-city travel, even amidst the apparent chaos of the Arc de Triomphe.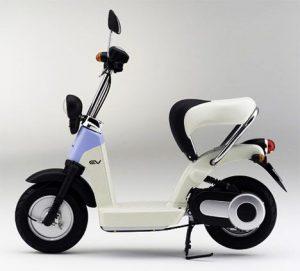 Few activities provide the feeling of transcending tourist-status like commuting by moped in a foreign city. Better served by an arsenal of French curses than by any highway code, I enjoyed a transient feeling of belonging as I heard a barked 'putain!' over the whirring of my 
CityScoot
 's electric motor.
Scooters are also much better suited to the sharing economy than electric cars, free as they are from the requirement for expensive fixed charging infrastructure.
The owner of Paris's 
AutoLib
 electric car sharing scheme, Bolloré Group, has seen its efforts to bring the £100m scheme to London delayed by more than 
a year
 as a result of the unwillingness of London's 33 local authorities to accept a common agreement on parking and charging infrastructure.
CityScoot
 bypasses this quagmire by requiring no charge points, allowing users to park wherever is legal.
The 1000-scooter network is maintained by a fleet of electric vans that continually substitute drained batteries with full ones, bringing power to the vehicles rather than vice versa.
In doing so, 
CityScoot
 reduces infrastructure overheads, maximises the network's coverage by freeing it from fixed points, and increases its availability by eliminating the requirement for charge time.
Whereas 
AutoLib
's growth has stalled in the face of 
€179m loss
 forecasts, the market for electric scooter sharing continues to grow. This summer, CityScoot will face a new competitor of the streets of Oaris. 
Coup
 has grown by 
over 400 per cent
 in only eight months since its launch in Berlin last year. Now the Bosch subsidiary aims to release 600 of its electric scooters on Paris this summer.
The competition looks set to slash prices for consumers as 
Coup
 promises a €3 per half hour flat fee followed by a euro for every additional ten minutes, less than half the price of 
CityScoot
 's cheapest by-the-minute offer.
This could plausibly transform electric scooter sharing from a novelty into a genuinely viable alternative for many metro commuters.
Electric scooter sharing services provide a cheap, clean alternative for inner-city car drivers forced off the road by ever increasing charges – and, during air pollution crises like that which struck Paris last year, 
driving bans
.
As competition leads to price wars, scooter sharing might even tempt some commuters away from ever more crowded buses and trains, while the prospect of zero emissions transport without investment in charging infrastructure and parking space is sure to appeal to local authorities. In increasingly post-car cities, electric scooter sharing is sure to be a fixture of diverse transport mixes.
Alfie Shaw tweets as 
@shaw_alfie
.
Want more of this stuff? Follow CityMetric on
Twitter
or
Facebook
.