One of the nation's first fully-planned communities, Coral Gables, Florida is making news by making good on its founders' mission. When George Merrick created the south Florida city in 1925, he envisioned a city that would offer every amenity to its residents, while at the same time would become a center for international business. In every respect, Merrick's dream has come true.
A Smart City Hub was launched on the City's website in May, allowing Coral Gables to share the success of its artificial intelligence and open data with students, engineers, developers and others who see a benefit in collaborating.
Considering its historical appreciation of architecture, culture and connectivity among its people, it's hardly surprising the city would find new ways to connect people with information.
The Hub is a public platform for exploring and downloading open data; for discovering and building apps; and for engaging to solve important local issues. Collaborators and the public can access convenient city services, analyze and combine Open Datasets using maps and graphs, as well as develop new web and mobile applications. History meet hi-tech.
Home to the University of Miami and 51,000 residents, Coral Gables is  continuing a strong track record of supporting both its residential and business sectors with more excellent City services.
This Smart Hub is just the latest of many hi-tech initiatives implemented in recent years. Its role is clear: delivering value, transparency, mobility, business intelligence and tools for citizen engagement. Amidst a thriving downtown district, residents and businesses now have a single entry point to access a vast treasure trove of public technology.
"A Collaboration and Open Data Platform for a Beautiful and Smart City," the Smart City Hub delivers value, transparency, enhanced mobility, business intelligence, and various tools for citizenship engagement. Users can explore this public platform and download open data in order to develop new web and mobile applications.
Citizens and business owners have a single entry point to access public technology, such as: an App Store transparency portals with financial data and dashboards; eGov customer service to pay/register online for services; tools for record search; real-time pedestrian sensors; interactive maps; citizen engagement tools; and many other resources.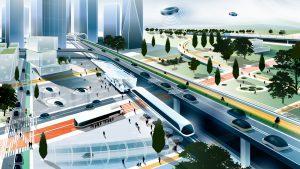 Features of the Coral Gables' City Hub include:
Transparency Portals – allowing visitors to view financial and public information in dashoards and graphs. Examples include Capital Improvement Financials, City Financial Expenditures, City Election History and Demographics, and Permit Inspections Scheduled, among others.
Citizen Engagement – With the mission of connecting people with each other, this section allows residents access to "GovQA Customer Connect," Public Police Records, Sustainable Living information, and provides a Virtual Tour of Coral Gables.
The App Store makes it easy for residents to download apps relating to traffic, parking, the trolley, and pay by phone options.
eGov City Services – allows users to pay for everything from a Building License to Certificate of Use, Invoices, Stormwater Bills, Lease, City Vendor Registration and Special Assessment to Parking Permits, Park Membership at the touch of a button. A connection to the City Employee Portal and a Careers Section are also updated regularly.
Open Data – connecting people with information, focuses on Coral Gables' Agriculture, Boundaries, Business, Community Safety, Education, Health, Housing and Transportation. Web Apps powered by Open Data also include public access to Debris reporting and removal, sustainable living initiatives, information on historic districts and properties, and summary statistics and demographics.
Geographic Information Science or "The Science of Where" serves as a search engine for the Internet of Things, where viewers fine and use Open IoT data from around the world. For those who live, work and do business in Coral Gables, this offers access to data relating to Bike Routes, Public Works (street lights, traffic), the city's popular Trolley, and even a Museum Exploration Map.
Connecting Data to a more informed community
City representatives are proud of Coral Gables' ability to mesh old world values with new age technology. The city website details how "Coral Gables' unique past is evident today, in the preservation of architecture and landmarks, but also in the spirit of its residents and the philosophy that guides its government."
In designing the city in 1925, Merrick drew from the Garden City and City Beautiful movements of the 19th and early 20th Century. The city is renowned for successfully incorporating secluded residential enclaves and commercial areas inspired by the architectural style of the Mediterranean.
As city leaders see it, the same principles that made Coral Gables a success at its inception guide its current policies. Emphasis on protecting the residential sectors, preserving the natural environment and maintaining an international flavor are long-standing traditions.
With its newly-launched Smart City Hub, one of the first fully-planned communities in the nation is paving the way for others once again.