By Sainul Abudheen K
California-based smart scooter startup Scooterson has secured US$1.75 million in seed funding from Arsat Industry, a manufacturer of precision metal parts for leading automobile companies in the world.
The electric scooter startup plans to use the investment to set up own manufacturing unit and launch its first product Rolley by leveraging Arsat's expertise aerospace applications.
A portion of the capital will also go into hiring talent, particularly engineers, for Scooterson's R&D team in Singapore.
"The year 2017 has been a great year for us at Scooterson. With a product validation of more than US$2 million worth of pre-sales, we raised US$1.75M in our seed-round. This calendar year will be even greater with the launch of our first product in the first semester and the launch of our scooter-sharing operations in Singapore by the end of the year. Also we plan to launch a product version for emerging markets, especially in India, where our indian investors (Bhavya Khanna and Sai Anurag) are helping us get started," the founders said in a joint statement.
Singapore-based Aditya Mathur and an unnamed angel are also investors at Scooterson.
Scooterson was founded in 2015 by Romanian national Mihnea de Vries (CEO), Deepansh Jain (CTO), and Flavius Balaj (COO).
THE NEW ROCK AND ROLL
Scooterson's Rolley flaunts several innovative features:
Intuitive: Rolley is a gesture-controlled intuitive scooter. There's no need for a gear shifter, nor an acceleration lever. You start as you start riding a regular kick-scooter, the gesture control system will detect your body as it moves: first kick is gear one, second kick shifts to gear two, and then simply sit for gear three.
Predictive: The Scooterson app will automatically turn on Rolley when the rider is within the activation range. The vehicles knows your daily habits and can then predict and suggest your most likely destination. Predictive routing is used by other smart features to increase energy efficiency and safety, based on riding patterns, rider profile and surrounding terrain.
Adaptive: The Scooterson app will adapt power and torque settings to perfectly match with remaining battery levels. In this way, you are able to ride at peak performance without draining the batteries before reaching your destination. The flip-side is that when the battery is low, the app will drop the settings to an energy conservation mode that will allow you to arrive at your destination before the battery dies.
Energy efficient: The more you ride Rolley, the more information the Scooterson app will gather and store in the cloud. After a while, by leveraging this data it will create a new optimised power-train profile, based on the riding patterns, your weight and surrounding terrain specifics. You can have multiple power-train profiles, optimised for better performance or for more range.
Connected: Scooterson connects to smartphones and smartwatches to display speed, battery status, ride statistics and other traffic-relevant data acquired from the cloud. The app continuously tracks the status of your scooter and connects to the cloud to receive rider's optimised and personalised torque and power settings, as well as software updates.
Sharing: Using the app, your friends and colleagues can request access to use your Rolley. The cloud-based sharing management system will send you a notification to ask you to grant them access. The app will unlock your Rolley, pairing it with your friend's smartphone, allowing to use all the predefined features accessible to a guest user. The system will notify your friend with the duration available to use the vehicle, and will remind them as this is coming to an end.
Multiple owners: The Scooterson app allows you, family, and friends to own and share one or more scooters. When a scooter is marked as available and a user is entering the predefined radius, the Scooterson app will notify him where to find the vehicle.
Keyless: You don't need to worry about the safety of the scooter. Your smartphone or smartwatch acts as a key, when the device is located within the predefined auto lock-unlock range. The security mode will automatically activate when you leave a short distance from the scooter.
Chassis: The scooter is made from aerospace materials, magnesium alloys and composites and weighs only 20 Kg, which is much lesser than a normal scooter that could weigh as much as 100 Kg.
Cost effective: Scooterson can be charged by plugging in any standard power outlet. It takes about three hours to fully charge the battery. The battery can be swapped with a charged one. On full power setting, it will go about 30 miles (50 Km) with one charge. However, this may depend on rider's weight, driving style and terrain specifics. On eco mode, it could go up to 45 miles (70 Km). All in all, the ride does not cost more than 19 cents per 100 Kms.
Exercise while riding: Since Scooterson does not have a throttle, the rider has to push with his feet until a 3.5 mph (5km/h) speed threshold. The motor assistance kicks in only over this speed. Also there is the "low power assistance" mode and the rider has to push with his feet from time to time, even beyond the speed threshold. So, there is a way to exercise a little.
Anti-theft system: Scooterson has a complex anti-theft system. The wheels are automatically blocked and the alarm goes off if moved from the parked position and you can track the vehicle using the in-built GPS feature on your mobile device if stolen.
Currently, Rolley is priced at US$2,490. It also offers a subscription-based ownership option: US$99 per month and US$999 per year options, which come with theft insurance and unlimited maintenance.
Whilst the company is headquartered in Silicon Valley, the team is scattered around the world — Romania, India, Singapore, and Norway.
Arsat Industry, with facilities near Arad in Romania, has many aerospace industry clients like Airbus, GE and Rolls Royce, and also serves huge names from other industries like Apple, Flextronics, and ABB.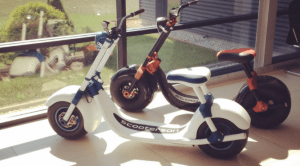 "We were at Arsat offices, talking about Scooterson features and manufacturing details, and out of the blue, Arsat owner Andrei Ghinea said 'I really like this product and I want to help you more, I want to invest'. It was an unexpected and pleasant surprise, and this is how Arsat became our largest investor so far, besides other investors from Singapore and India," said Vries.
Vries is a serial entrepreneur and filmmaker, with 20-plus years' experience in tech, marketing and film. In 1996, Vries launched the first internet service provider in his hometown. Later, he started directing TV ads and music videos, pioneering aerial cinematography drones.
Jain is a serial entrepreneur, who co-founded and developedShifu App, an AI-powered context-aware personal assistant application for mobile phones. A few months after attracting investment from Google executives like Amit Singhal, Shifu was acquired by Paytm for US$8 million.
Balaj has 20 years' experience in corporate management and entrepreneurship. After succeeding in industrial construction and real estate investments in Romania, he is turning his focus into tech innovation, in the areas of electric transportation and leading the manufacturing at Scooterson.