Global  Car Sharing Market is set to grow from its current market value of more than $1.5 billion to over $11 billion by 2024; according to a new research report by Global Market Insights, Inc.   
Increasing initiatives by the government to increase the usage of these services are expected to be one of the major factors driving the car sharing market growth. In July 2017, the ministry of transport of China drafted a policy to provide incentives to the users of these services, such as preferential parking slots & rates. Increasing government support is encouraging the implementation of these services with the traditional transportation modes. For instance, the local public transport operator in Brussels, STIB has partnered with Cambio CarSharing to facilitate the integration of these services with public transportation, thus positively impacting the car sharing market in the country.
Car sharing market is projected to witness growth due to the benefits experienced by the users such as reduction in costs incurred including the purchase of vehicles, parking, insurance, fuel, maintenance, etc. The users can avoid the fixed costs of ownership by accessing the vehicles on the pay-per-use basis. Furthermore, the environmental benefits due to traffic congestion are attracting customers to these services. In March 2014, Paris imposed a partial vehicle ban due to persistent air pollution above the stipulated European standards. During this time, the city has granted access to only car sharing and public transport vehicles.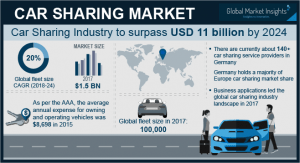 Increasing competition from other mobility services, such as ride-hailing, and car rental, are expected to challenge the car sharing market during the forecast timespan. The perceived benefits of these models such as more reduction in traffic and pollution are encouraging the consumers to use these services often. Furthermore, the vendors in the industry are increasingly providing low-cost ride-sharing services, threatening the car sharing market growth.
Car sharing market in business applications is expected to witness growth, due to advantages such as flexibility for employees and reduction in fleet management costs. These services allow employees of the organization access to a large fleet of vehicles and flexibility of booking vehicles as & when needed. These services allow the fleet managers to streamline fleet operations and make an optimal use of vehicles. Furthermore, these services allow the organizations to save more by reducing total cost of mobility by about 30%.
UK Car Sharing Market size, by model, 2017 & 2024 (USD Million)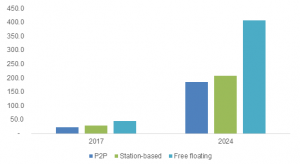 Europe car sharing market is expected to witness a significant growth due to the increasing awareness regarding these services among people and increasing government support. Under Initiativa Car Sharing, the government of Italy provides an extensive support to the players in the industry including incentives for drivers such as free parking in city centers and access to low emission zones. London Municipality, in association with the Transport for London (TfL), has introduced Car Clubs Strategy to support local clubs to penetrate the industry. The local authorities actively promote the use of these services and their benefits to the consumers.
Some of the key vendors in the car sharing market are Car2Go, Autolib, Cambio CarSharing, Orix Corporation, Lyft, Inc., and Zipcar, Inc. These companies are constantly devising strategies such as lowering fares and offering promotional discounts to remain competitive in the industry. Furthermore, the industry is characterized by strong competition among both global and regional players.
Source:  https://www.gminsights.com/pressrelease/carsharing-market