By Elise Mak
Get Smart
A forum hosted by Smart City Consortium on June 1 explored how technology shapes lives. Smart mobility is a way to move people and goods using new technology that is faster, cleaner, more accessible than traditional options, striving towards automated and personalized travel on-demand as well as providing an efficient, safe and comfortable transport system.
Information and communication technology infrastructure, combined with open data, are the keys to making mobility smarter.
HK on the move
It is important to Hong Kong, as citizens are heavy users of public transport.
"In Hong Kong, there are 12.6 million passenger trips on public transport every day, with the railway being the backbone," says Charles So, executive director of Traffic and Transport Planning at AECOM. "In addition, there are 354 licensed vehicles for every kilometer of road."
He says Hong Kong has been doing a lot in this regard. They city has an automatic toll collection system, a mobile application called HK eTransport that shows users different routes and real-time public transport mobile applications.
Next step
The next thing for Hong Kong to do, according to So, is to develop an all-in-one application that integrates different platforms for real-time data, as well as a free-flow tolling system that allows high-speed free-flow tolling for all road users driving through the toll gantry without the need of toll plaza and toll booths.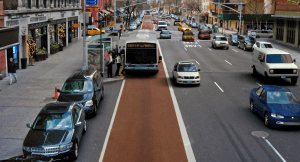 "The ultimate goal of smart mobility is [to move] towards automated systems, from the fully-integrated ones," says So. "By then, automated predictive technologies would be adopted."
He even suggests, developing smart intersections: smart devices for pedestrian crossing that assist the elderly and the disabled.
Meanwhile, Kelvin Shum, senior director at Esri China (Hong Kong), lays out six indicators for developing smart mobility – safe and secure, well-run, livable, health, prosperous and sustainable.
"Real-time data are needed, so we can develop applications for users to acquire the information they need to reduce waiting time," says Shum. "We also need to promote green mobility to reduce pollution and alleviate congestion. This can improve people's health and save their time."
Shum also suggests clean energy for vehicles for the sake of sustainability.
One game changer, according to Shum, is geographic information system (GIS). With GIS, we can understand travel patterns, help response to crisis and traffic incidents, improve overall safety and security and identify ways for cost saving during journey through integrating real-time data, analyzing it and sending notifications to the users.
In the end, Hong Kong would have the potential to be a pioneer in the region to make mobility easier and friendlier.
"Hong Kong can be a superconnector. It can make "smart city" a major industry to influence the region and set an example for neighbouring cities such as Shenzhen," said David Chung, Under Secretary for the Innovation and Technology Bureau, who speaks on the government's behalf.
"Technology drives change, shaping our city, our lives and our government. The government is improving its service to manage the city better and serve the citizens better," says Chung.