By Pankaj Dovall
Shared Mobility and electric cars, according to Daimler.
Dieter Zetsche has been at the heart of the global auto industry for last many decades, but the chairman of 153-billion-euro Daimler, that makes Mercedes, feels the current churn in the industry – led by new concepts such as shared mobility to autonomous driving and electric vehicles -to be one of his most-challenging periods. "I have never seen a time of so much change and India will play a key role in development of new technologies," 64-year-old Zetsche tells TOI in an interview.Excerpts:
Concepts like shared mobility, electric cars, autonomous cars are fast picking up. How do you view the general trend in the automobile industry?

New technologies give global opportunities. Digitalisation is key, and we have identified four new trends as CASE -connectivity , autonomous driving, sharing and electric vehicles. We try to pioneer the future on these trends.
Tell us about Mercedes Benz Research & Development India and what role does it play for you globally?

When it comes to digitalisation, India is second to none. We have been here for last 21 years, and are now in a perfect situation to leverage new opportunities. This is the largest R&D centre for us outside Germany. We have projects in development of electric vehicles and respective control units which are almost autonomously done here for trucks, vans and buses.
When it comes to machine learning and deep learning, we have a very strong competence here which might become the centre of competence for the group altogether .We are using these skills for autonomous driving, which is another area with strong involvement of tech centre  in India. Even for user interface in the car, we are working together with our activities in the Silicon Valley.



Global trends are pointing towards autonomous and electric cars, and shared mobility. Is it scary when some say headquarters of the auto industry have shifted to Silicon Valley and is dominated by companies such as Facebook, Google, andTesla? Is personal mobility under threat?

I am not scared at all. I have a lot of respect for the potential new competitors. These are companies, especially the established tech companies, which have proven their capabilities and power. There is no doubt about this.
On the other hand, we are changing very fast. We are having the strongest period in our company's history. We are able to invest huge amount of money in R&D and capex. To develop future business, we are open for cooperation and collaborations.
We are cooperating with startups as well.
 What is the future of personal mobility. A decade or five years from now, will people buy new cars or use apps to access shared mobility. Is this challenging for the luxury industry?

I believe there will be no either or. We will see many more different forms of mobility than we saw in the past. The customer will have more possibilities and the sharing platform will play an important role. I am convinced that people will continue to purchase -especially in autonomous driving where they get more time to do other things than  just conducting and manoeuvring the car. Then it might be more useful for them to see how seamlessly they can communicate within the car, how well they can refresh and relax in the car, or get entertained.
 So, personal mobility will not be impacted by shared ecosystem?

I don't think individual mobility will come down. I see further growth in mobility altogether.So, there is plenty of opportunity. Our task is to eliminate emissions and accidents. We have to work towards emission and accident-free driving. Of course, sharing is also critical.
How do you see Tesla as a competitor?

 I respect what Elon Musk is doing and his approach. He went to the other end, to luxury, and made electric car driving more desirable. At the same time, we have sold electric cars 12 years ago, long before him, but did not come up with a really-convincing car.
We now have an entire fleet of very-competitive electric cars under development and I have no doubt that we will be as attractive to buyers of electric cars in the future.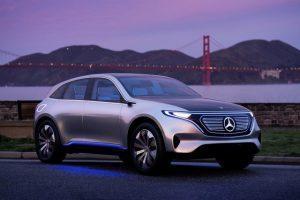 Is India, companies have been given stiff target of 2030, whereas UK has given 2040. Do you think you have been forced to going for electric? Is it too early?

Governments should give us ambitious but realistic targets to bring down CO2. From today's perspective, it is most likely to be battery-electric vehicles, but it is not the final judgement.
I think it's a much better approach that we try to make the most exciting electric cars that customers can't resist to buy . That is the way to get there in a market-driven economy .We expect that by 2025, around 15-20% of our production will be of battery electric vehicles.
 Do you think that there's no future for diesel?

Technologically it's possible to have modern diesel engines which are as clean as modern gasoline engines… It would not be smart for the society in general and particularly for the auto companies to forego the potential of diesel engines.
We do believe that diesel is one element of our future even while we invest heavily in electric vehicles.