DETROIT — General Motors said Thursday it will bring
self-driving technology
in the form of ride sharing to consumers by next year. It said the vehicles would be introduced in the United States, but did not say in which cities it planned to roll out the service.
To hasten that goal, the automaker has partnered with technology investor SoftBank Vision Fund to invest in GM Cruise technology, the automaker said Thursday.
SoftBank, a large technology investment company with stakes in such
companies as Uber,
will invest $2.25 billion in GM Cruise Holdings, and GM will invest $1.1 billion in GM Cruise, its self-driving arm, when the transaction closes at the end of June, the company said.
"This would be one of the largest scaled or the largest scaled effort in the space," Michael Ronen, managing partner at SoftBank Investment Advisers, told the media. "There is a lot of interest in the space. This is as big as it gets."
While GM has not yet had discussions with government agencies on approval to put self-driving cars on the roads, Chairman and CEO Mary Barra said she's confident they will be supportive because, "This technology is going to improve safety on our roadways."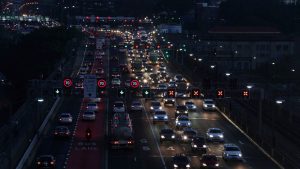 The company did not say whether it planned to launch its own
ride service
or partner with another company.
GM leaders said the automaker was prepared on its own to fund GM's long-stated goal of launching commercial autonomous vehicles at scale beginning in 2019. But in discussions with SoftBank over the past few months, GM found the two shared the same vision to bring autonomous vehicle technology to market.
The partnership will speed GM's goal and help attract more talent to the GM Cruise team. GM Cruise employed 40 people when GM acquired it two years ago, today it employees about 800, said GM President Dan Ammann.
GM has a $500 million investment in ride sharing company Lyft, which it made in 2016.
"Our Cruise and GM teams together have made tremendous progress over the last two years," Barra said in a news release. "Teaming up with SoftBank adds an additional strong partner as we pursue our vision of zero crashes, zero emissions and zero congestion."
The SoftBank Vision Fund investment will be made in two pieces. Vision Fund will invest the first slice of $900 million. When the Cruise
autonomous vehicles
are ready for commercial deployment, the Vision Fund will make the second investment of $1.35 billion, "subject to regulatory approval," GM said.
SoftBank Vision Fund will own 19.6 percent equity in GM Cruise, GM will own the balance. This investment process will give GM flexibility with respect to capital allocation, GM said.
"The GM Cruise approach of a fully integrated hardware and software stake gives it a unique competitive advantage," said Michael Ronen, managing partner of SoftBank Investment Advisors in a media statement. "We are very impressed by the advances made by the Cruise and GM teams, and are thrilled to help them lead a historic transformation of the automobile industry."
The GM and SoftBank Vision Fund investments are expected to provide the necessary capital to reach commercialization of autonomous vehicles "at scale" beginning in 2019, GM said.
"We've been in discussion for quite some time. We're very aligned as to what this technology can bring to the world," Ammann said.
"The capital we're raising and announcing today is very significant and will carry us to full deployment."
Ronen of SoftBank concurred.
"This feels like the right time. There's still work to do between now and next year to make this work," Ronen said.
"We have invested significant amounts of capital in ride sharing globally. We've made other investments in technology that relates to automotive including artificial intelligence. Frankly, we're also at the beginning of that investment strategy as it relates to automotive and there'll be plenty of opportunities," to do more, Ronen said.
There is exclusivity between GM and SoftBank. The two have agreed to a seven-year term before either can change their arrangement. Both companies said that time frame will provide enough time to significantly grow technology.