INDIA is examining the use of private vehicles as shared taxis in an effort to reduce car ownership and curb growing traffic congestion in major cities, sources familiar with the matter told Reuters.
India's federal think-tank, chaired by Prime Minister Narendra Modi, has partnered with companies including ride-sharing firm Uber
 Tech
nologies to assess the economic and environmental impact of using private cars as taxis, a government official involved in the process said.
Increasing the availability of cars that can be used as cabs would be welcome news for Uber and its SoftBank backed local rival Ola, although it could heighten tensions with taxi operators that typically pay higher fees for commercial licences while facing more rigorous vehicle testing.
India's government wants to reduce
private car ownership
, the official said, adding the three-month study will look at the safety, regulatory, tax and insurance implications.
While the study is in its early days, the broad idea is to set up a clear and reasonable regulatory framework for ridesharing so it allows companies to operate in India without ambiguity, another source involved in the process said.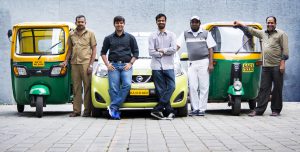 Although Uber is allowed to use private cars for ride sharing in countries such as Australia and Singapore, their use has faced opposition from taxi operators in parts of North America.
An Uber spokesman said sharing private vehicles could help cut congestion and ensure more efficient use of cars.
According to analysts, allowing the use of private cars as taxis would improve the supply of vehicles at a low cost. 
"We are engaging with a range of stakeholders in India about the best way to realise this vision," he said.
But such a move could dent car sales in India where the ownership ratio is already low compared with other countries. There are fewer than 20 cars for every 1,000 people in India.
Maruti Suzuki, Hyundai Motor and Tata Motors are among the top-selling carmakers in the country, which is forecast to be the world's third-largest car market by 2020.
Uber and Ola have built their taxi "fleets" in India by offering incentives such as free smartphones and cash bonuses to drivers, but both are now cutting back on these in an attempt to be profitable.
Allowing the use of private cars as taxis would improve the supply of vehicles at a low cost, say analysts.
"If most of these cars are affiliated with Ola and Uber then it's a win for them," Neil Shah, research director at consultant Counterpoint Research, said.
The proposal, however, could antagonise current drivers, who have paid hefty fees to get a commercial taxi licence.
Concerns around the safety of passengers would also need to be addressed, said Shah, adding any new law must ensure private car drivers go through the same background and safety checks. – Reuters