Despite what seems like near-constant gridlock across the city, and Los Angeles' reputation as an auto-focused metropolis, not everyone who lives here owns a car. That is particularly true in Downtown, where a growing number of individuals have given up their vehicles in favor of mass transit, or families have realized that they can get by with just one car.
So it's not surprising that a number of alternatives to driving solo have taken hold in Downtown. In addition to the increasing number of people who walk between home and work, Uber and Lyft are commonplace. Bicycles lanes are appearing across the community and the L.A. Department of Transportation is working on an expansion of the DASH bus system.
On Friday, April 20, a new player joined the lineup. What sets BlueLA apart is that the city government itself has a stake, and the cars are all electric.
BlueLA is a collaboration between LADOT and Blue Solutions, a car sharing and mobility-focused subsidiary of the French transportation company the Bolloré Group. It seeks to serve a variety of customers, with a special focus on people in low-income communities who only need a car part-time.
The program offers a fleet of compact hatchback-style vehicles built by Bolloré. They are set up at charging hubs around the city, with stations already operating or in the works in Downtown, Koreatown and Echo Park. It is launching with 25 cars and 35 charging stations. All of the cars are four-seat rides with the BlueLA logo painted on the side.
Three of the initial seven hubs are in Downtown, with three more expected to open in the Central City in the coming months. The company expects to have 100 vehicles available at 40 locations by the end of the year, and to triple in size by 2021. The service operates 24 hours a day.
Blue Solutions Managing Director Christophe Arnaud said the initial stations were chosen as target areas where people either may not have a car, or where they might walk or bike to work and need a vehicle only for short trips.
"Each station's location was chosen to support the low-income communities," Arnaud said.
BlueLA comes in the wake of other cities that have launched their own car-sharing service. Indianapolis partnered with the Bolloré Group to start BlueIndy in 2015. Chicago's Department of Transportation is exploring a pilot program for a similar service called Car2Go.
The LADOT developed the idea of an affordable, electric car-sharing service and began searching for partners in 2016, according to a department spokesperson.
The service operates on a membership system, with users paying $5 a month for access and 20 cents a minute for a ride (it works out to $12 an hour). People are billed on a credit card tied to their account.
For households of four with an annual income below $45,000, membership is $1 a month, and rides are 15 cents a minute, or $9 an hour. To qualify for the lower rate, users must provide a pay stub or other income statement.
"Our aim was to bring sustainable, accessible solutions to Los Angeles," said LADOT spokesman Oliver Hou. "This gives everyone freedom of movement while respecting the environment."
The initial hubs in Downtown Los Angeles are at Sixth and Bixel streets, Glendale and Beverly boulevards, and 11th and Santee streets. There are five charging stations at each location.
Additional hubs are planned for Los Angeles Trade Technical College, the Los Angeles Flower Market and City Hall.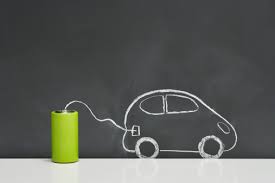 The system operates in a manner similar to Metro's Bike Share program.
To access a vehicle, users press either a Metro TAP card or a BlueLA card to a central kiosk at each hub (BlueLA cards are mailed to users after they register).
The card enables a user to remove the charging cord from a car, unlock it and drive away.
People can use the cars for as long as they want, provided they stay within 25 miles of a charging station and the battery does not run out. The system allows the service to call users and ask them to turn around if they get too far away. When the charge hits 30%, BlueLA notifies the driver to return to a hub.
Similar to Metro's Bike Share, an app allows drivers to see where cars are available and book a vehicle in advance. The service provides auto insurance coverage, but it is secondary to a driver's personal auto insurance. Tickets are the driver's responsibility, and users must work with BlueLA's insurance provider in the event of an accident.
The cars have GPS tracking, navigation service on a display screen, and a car-return system that highlights stations that have an available space for drop-off.
BlueLA is one of approximately half a dozen car-sharing services operating in the Los Angeles area. The company Getaround launched in Los Angeles in March, and allows people in Downtown and other neighborhoods to rent out their personal vehicles.
Getaround General Manager James Correa said there is a high demand for car sharing services in the city, and there is room for many options to meet demand. He sees a growing user base in neighborhoods known for congestion and limited parking.
"It's a trend in general for urban dwellers who are eschewing car ownership," Correa said. "If there are more providers in the market, it's good. More people are learning and experimenting with car sharing."
There are other local options, too. General Motors brought its car-sharing service, Maven, to Downtown in 2016. Then there's Zipcar, which has a number of stations and a variety of company-owned vehicles around Downtown.