Author: Colleen Callander
Would you let your child use a rideshare app? A newly-launched program in Denver hopes so.
HopSkipDrive has expanded to Denver after running for about three-and-a-half years in California.
Founded by three working moms, including one Denver native, the rideshare service is like Uber for kids. Families can schedule rides for their children online or through the app, but it must be done at least eight hours in advance. It serves kids ages six and up.
"If you know of a certain day you're going to be need a ride for your kid to school or activities, you can arrange that ride as far in advance as you want so you know someone will be there to pick your kid up and bring them to their next location," Kelsey Kuenstler, HopSkipDrive Operations Associate for Denver, said.
The people behind the service realize the issue of safety is a main concern. According to Kuenstler, all drivers go through an extensive background check and interview before being hired, and parents receive a picture of the driver, their full bio, and a history of their child care experience.
"We have a two-way verification process, so not only is the driver able to verify this is the correct child, but the child is able to verify that this is the correct driver," she said.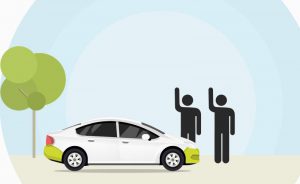 "Children with their parents come up with a word like ice cream or pizza, something specific to that child and parent that they know, and then that driver is giving the code word to the child so the child knows that's the driver that's supposed to be driving them to wherever they're going next."
Angela Coleman was scrolling through Facebook when she saw a post from HopSkipDrive on her feed. After going through the background check and interview process, she is now a driver.
"My first ride was Monday. It was awesome and it was a lot of fun," Coleman said. "I went to a dance studio and to a home, and dropped off a very nice individual. We listened to some Broadway show tunes along the way."
Coleman is a mother and understands the safety concerns. She said she did a lot of research about the service and advises others to do the same before using it.