By Sun Wenjing and Han Wei
Ride-hailing giant Didi Chuxing Technology Co. on Thursday debuted its own branded bike-sharing service in Chengdu, ratcheted up the battle to control one of China's hottest shared-economy sectors.
Just last October, talks got underway over a possible merger between the leading players – Mobike and Ofo – in bike sharing, which quickly caught fire when it started about two years ago in China. But the talks spun apart.
Didi is the largest shareholder in Ofo, with a 25% stake. But its move to pitch its own turquoise-colored bikes in the capital of southwest Sichuan province signals the competition for China's riders may be far from over.
Orange Mobike and canary yellow Ofo have already burned through billions of dollars, offering deep discounts and other enticements to try to woo loyal customers who rent bikes via their smartphones.
Though late to the race for market share, Didi hopes to win over customers to its Qingju brand by not requiring an initial deposit to start riding, as is common in the sector. In addition to its stake in Ofo, it also bought cash-strapped Bluegogo.
That gives it three stakes in the bike-sharing sector, where it hopes its car-hailing passengers will want to go their last mile to work or home on one of its bike options.
Didi dominates the car-hailing sector, after a vicious price war against the China unit of Uber Technologies Inc., which ended in an August 2016 merger.
Didi launched a comprehensive bike-rental platform within its car services app, allowing riders to access services offered by Bluegogo, Ofo, and now Qingju.
Didi also stands to benefit from jumping into the rental-bike race by gaining access to valuable data from bike riders.
Adding bike riders to the 20 million car-hailing orders it handles every day, Didi's pool of user data could become equivalent to the country's largest e-commerce giant Alibaba Group.
Didi said its Qingju bikes will replace some damaged Bluegogo two wheelers in Chengdu.
Late last year, Didi joined hands with Mobike's top investor Tencent Holdings to push forward a merger between Ofo and Mobike amid growing investor interest in seeing an end to the discount-price wars. But the proposed merger, which would likely have granted Didi greater control over the new company, was blocked by managements of both Mobike and Ofo.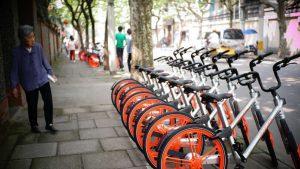 Tech giants are battling fiercely in the bike-sharing market in a bid to access more users.
Alibaba last year has invested in two smaller bike-sharers — Hellobike and Youon Bike — and invested $100 million into Ofo last June. The e-commerce company is seeking to increase its investment in Ofo to get greater say in the company's management, sources said.
But Ofo's plan to invite fresh funding has been blocked by Didi as conflicts between the pair escalate due to disagreements on Ofo's operations, sources close to the matter told Caixin. Meanwhile, rival Mobike has recently completed another funding round of about $1 billion, Caixin has learned.
An Ofo source said Didi had promised not to directly offer bike-sharing services when it became Ofo's strategic investor. But Didi denies it made such an agreement.
Business registration documents showed that Didi set up two companies in August and September 2017 with core business of bike and electric bike rental services.
Contact reporter Han Wei (weihan@caixin.com)