EasyOpen: OT (Oberthur Technologies), a leading global provider of embedded security software products and services, and Omoove, a company by Octo Telematics, a European leader in providing innovative technological solutions dedicated to Shared Mobility, they are joining forces to transform user experience and increase security for car sharing services. The two companies developed EasyOpen, a service powered by OT's Secure IOT Cloud that transforms smartphones into car keys, at the Mobile World Congress in Barcelona.
EasyOpen combines OT's expertise in secure service enablement for smartphones and wearable devices with Omoove's multiple years of experience in car sharing platforms and on-board technology.
Until now, the majority of car sharing fleet systems relied on direct communication between components installed in vehicles and a central management system. These purely online systems tended to create latencies for the users, and potentially made the vehicles vulnerable to illicit use. To offer a superior level of reliability and solve latency issues, EasyOpen introduces the use of a smartphone with Near Field Communication (NFC) technology to quickly and safely manage access to vehicles enabling users to directly interact with the vehicle using a device they already own, even if their smartphone is out of range of network coverage or runs out of battery. The service can also be extended to any wearable device equipped with an eSE (embedded Secure Element) supporting NFC technology.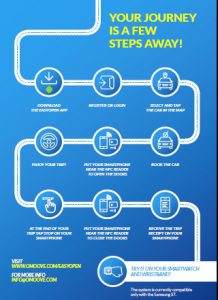 Relying on OT's Secure IOT Cloud, EasyOpen ensures strong authentication of the user's smartphone and secure provisioning and storage of the digital keys in its eSE from the enrolment to the effective use of the service. In practice, it will provide an extremely simple, intuitive and fast user experience. After initially registering to the service through the EasyOpen application provided by Omoove, users will be able to immediately find vehicles in the area using their smartphone and book the one of their choice. Digital keys will be sent remotely and in a secure way via OT's Secure IOT Cloud to the user's device. The user will simply have to place the smartphone close to the windshield to unlock the door. OT's eSE equipping the NFC receiver installed in the cars will then ensure the secure communication between the user's device and the car and will also enable the remote management of the access rights at the car level. In case of device loss or theft, the digital key will be disabled remotely to avoid misuse.
See more at: http://omoove.com/