Now through the end of May, cyclists in four different American cities can take advantage of free bike share, courtesy of Switzerland.
Yes, that Switzerland. The country's tourism office partnered with Motivate—a company that oversees bike-share programs in eight cities across the US—to offer riders one full day of free access to systems in select metro areas. (Participating systems include Citi Bike in New York/Jersey City, Hubway in Boston, Divvy in Chicago, and Ford GoBike in the Bay Area.)
Anyone interested can send an e-postcard to a friend through Switzerland Tourism's website. The giftee gets a free day of rides in one the four bike-share markets, while the gift-giver will be entered into a raffle for a bike trip to Switzerland, among other prizes.
Part of the country's three-year Nature Wants You Back ad campaign, the promotion is meant to highlight Switzerland's bike-friendly initiatives.
"Switzerland isn't just about skiing and hiking in the Alps," said Alex Hermann, Switzerland Tourism's director for North America. "It offers 5,600 miles of cycling routes and 2,800 miles of mountain biking trails."
It's also no stranger to robust bike rentals: Fifteen different Swiss municipalities offer some 200 stations where riders can take out city bikes or e-bikes. In some cities, including Zurich, standard bikes can be borrowed for free.
According to Hermann, the goal of the giveaway is to reach younger people who might be interested in traveling for an active vacation.
"We believe that the core cycling market already knows how fantastic the cycling is in Switzerland," he said. "We want to reach people who enjoy riding, but who may not necessarily consider themselves cyclists."
The four cities were chosen because Swiss International Air Lines has a hub in each. (Motivate also operates in Portland, Oregon; Columbus, Ohio; and Washington, DC, but they're not included in the promotion.) Swiss Tourism previously collaborated with Motivate on a similar, single-day bike share promotion in 2015.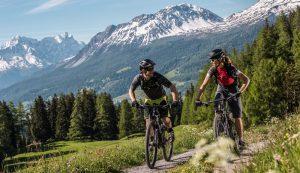 Users can send free rides to as many friends as they want. Each recipient will get a code for one day of free bike share in a single city in May.
The deal differs slightly from place to place: Recipients can take multiple rides, with the times limits for each ranging from 30 minutes to three hours.
Swiss Tourism is also offering free rides in Montreal, where Bixi bike share ambassadors will hand out two-for-one postcards at high-traffic stations from May 4-7.
In all participating cities, lucky riders can also sample Swiss chocolate and cheese from custom Motivate tricycles and learn more about riding in Switzerland.