CTech
Beijing-based bike-sharing company Ofo is set to launch its service in Israel this week. The service will be available in Ramat Gan, a city adjacent to Tel Aviv, the City of Ramat Gan announced.
Chinese bike-sharing company, Beijing Mobike Technology Co. Ltd., announced Monday it would launch a free pilot program on the Tel Aviv University Campus. As part of the pilot, hundreds of shared bikes will be positioned on the university's campus.
500 bicycles by Ofo will be positioned throughout Ramat Gan, as well as inside the Sheba Medical Center and the Bar-Ilan University in the city.
Ofo's intention to enter the Israeli market was first reported by Calcalist in July.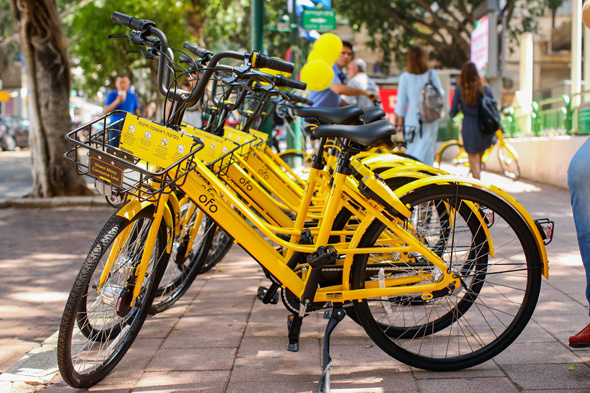 Ofo bikes in Ramat Gan. Photo: Shlomi Mizrachi
Founded in 2014, Ofo operates over 10 million bikes in 250 cities worldwide and has some 200 million users. Unlike similar services in Europe and the U.S., Ofo's operational model does not include docking stations, and users unlock the bike by entering a code into an app on their phones. In July, Ofo raised $700 million in a funding round led by Alibaba.
Imri Galai, CEO of Ofo Israel, said in a statement that Ofo bikes would be available in additional cities in Israel in upcoming months.
Mobike offers a station-free bike sharing service operated via a smartphone app. Founded in 2015, Mobike operates in over 200 cities worldwide and has tens of millions of users.
In 2017, the company began operating outside China in Singapore, Japan, Malaysia, Italy, the Netherlands, Australia, and the U.S. Mobike has raised nearly $1 billion in investments in 2017 and is backed by Tencent Holdings Ltd.
Mobile announced its intention to enter the Israeli market in February, partnering with Israeli car-sharing company Car2Go Ltd.
Mobike has already imported 2,500 bikes to Israel and expects to operate thousands of bike across Israel within the year.
In a February statement, Mobike said its service would initially be offered in the towns of Rishon LeZion and Rehovot in central Israel, and in the Krayot town cluster in the country's north.
Mobike also said it would not be offered in the Tel Aviv area, where the city's bike-sharing service Tel-O-Fun is already operating.