By Jamie L. LaReau
General Motors not only is back at the forefront of the auto industry, the auto giant is running neck and neck with Waymo as the perceived leader in self-driving car technology.
Its self-driving vehicle unit, GM Cruise, is  in a battle with Waymo, a subsidiary of Google, to be first to bring fully autonomous cars to market. The two companies are considered the leaders in a crowded field, and San Francisco is the proving grounds to refine the technology.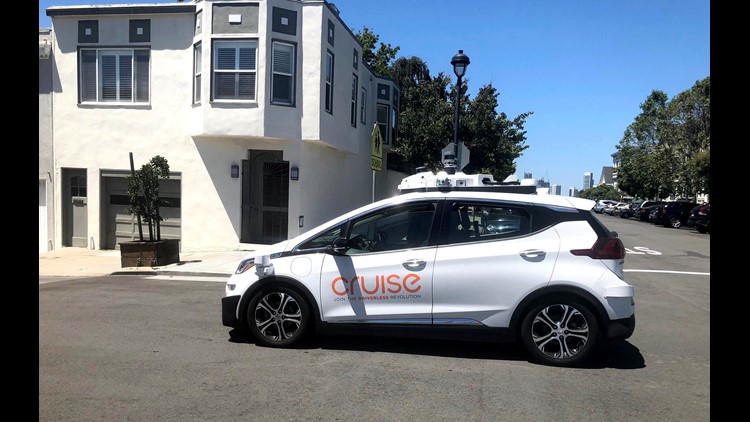 In San Francisco, GM is testing its own ride-sharing app using its fleet of self-driving cars and a dispatch operation that works similarly to an air traffic control center. Self-driving technology is moving at lightning speed, with GM betting that autonomous vehicles (AVs) will be an important part of its business one day as people's transportation needs and preferences change.
Here's how GM got to the front and where it plans to go.
The testing grounds
GM bought Cruise in 2016 as a 40-person startup. Today, it employs 740 people, says  Patrick Sullivan, a GM Cruise spokesman, and it's valued at more than 10 times what GM paid for it. GM paid about $1 billion for Cruise, and today it's valued at more than $11 billion, according to TheStreet.com.
Adding to its value is the fact that SoftBank, a leading technology investor with stakes in such companies as Uber, will put $2.25 billion into GM Cruise Holdings, with GM investing $1.1 billion as part of the partnership.
Last year, GM Cruise built 130 of the second generation of its AVs with  a bigger suite of sensors, Sullivan said. Then, last fall, it added another 50 of the cars. GM no longer calls them Bolts, but rather the Cruise AV, he said.
All the self-driving cars are electric and still have operating controls, such as a steering wheel and brakes. They are being tested mostly in San Francisco, with a handful deployed in Milford, Michigan, and the Phoenix area, Sullivan said.
"They have been mapping vehicles for New York City," said Sam Abuelsamid, senior analyst at Navigant Research in Ann Arbor, Michigan. "It's now up to New York state as to when they will decide to give out driverless permits. They have not given it yet to any company."
GM's hushed start
GM has also quietly developed its own ride-sharing app called Cruise Anywhere and has been testing it with its employees in San Francisco for about a year.
Coinciding with the testing of the app, GM Cruise is also testing a dispatch platform in San Francisco, Abuelsamid said. He visited GM Cruise's headquarters there last November, rode in an AV and saw the app.
The dispatch platform is a command center of sorts. People track the self-driving cars in real time, monitor each AV's battery charge level and know if the cars are occupied or not. Dispatchers will be able to take control of the cars remotely in emergencies, Abuelsamid said.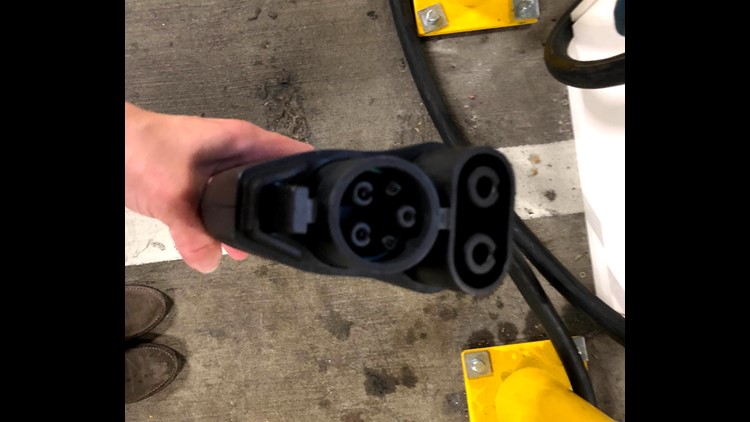 Stacey Randecker Bartlett, Special to the Free Press
GM Cruise declined to provide an executive to discuss the testing, but representatives did confirm it is testing the ride-hailing app in San Francisco.
Also, GM leaders will not comment on which city GM will initially deploy fully autonomous cars, but most experts expect it will be San Francisco in early spring.
GM Cruise's fleet of 180 all-electric AVs travel the hilly San Francisco streets now dozens of times a day, acting as a taxi-like service for employees only.
GM has also installed 18 fast chargers for the electric vehicles in a parking garage near the city's busy Embarcadero eastern waterfront, sources say.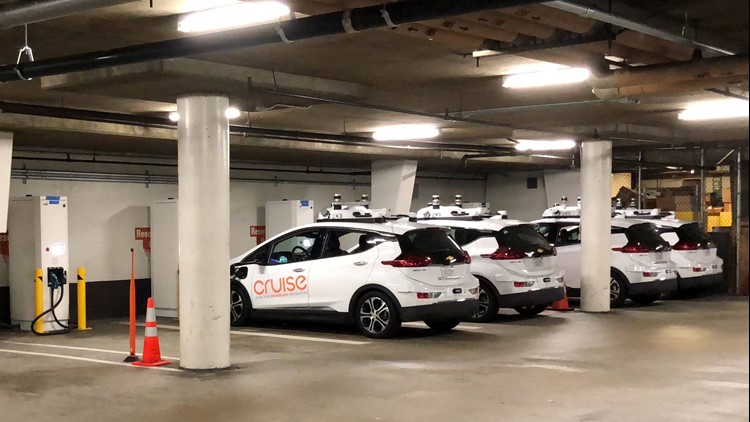 Like all AVs in the U.S., the Cruise AVs must have a human on board for safety for now. But, observers say, its learning has made it a front-runner among competitors such as Waymo, Uber, Ford, Tesla and others to deliver on its promise to launch self-driving cars through a ride-sharing platform in 2019.
"GM and Waymo overall are the leaders," said Abuelsamid, who publishes an annual Automated Driver Leader Board study. "GM's technology is as good as Waymo's, and they have the capability to develop and service those vehicles. They're in good shape."
Pretty normal
So far, self-driving cars have mastered navigating safely around pedestrians and other cars, but they struggle to read bicyclists.
Stacey Randecker Bartlett, an avid bicyclist, sees GM Cruise AVs "multiple times" daily around San Francisco. Bartlett, a senior marketing manager for auto supplier Renesas Electronics America, works on "advanced automotive" and has an interest in autonomous cars.
She said GM Cruise, Uber, Waymo and Zoox are all testing AVs in San Francisco, but the Cruise AVs are by far the most commonly seen. Most have two to four people in them and run at all hours, she said.
"I don't know if they're going around just for miles or they're taking people places," Bartlett said.
Abuelsamid has been to San Francisco recently and said, "It's increasingly not unusual to see autonomous vehicles running around. It's getting to be a pretty normal thing."
How it works
In GM's 2018 Self-driving Safety Report on autonomous vehicles, it describes how it would commercialize the AVs through a ride-sharing platform.
"Customers will use a mobile app to request a ride, just like they use ride-sharing today. The only difference is that customers will control the experience – their customized climate control and radio station settings will be sent to the vehicle ahead of when they access their ride," the report said.
GM Cruise's fleet operations will send an AV to a customer's location and drive them to their destination, the report said. It went on to say once a customer is inside the car, there are "touch-screen tablets to access real-time status information about the ride.
The tablets will also remind passengers to close all doors and fasten their seat belts. Passengers will be able to communicate with remote support personnel with the press of a button. There's another button for passengers to press if they want to end a ride because of an emergency."
Cruise will have human support staff to initiate contact with passengers when assistance is needed. The report said, "Once the ride is over, if passengers forget to close the doors, the vehicle can close them itself and move on to the next customer."