Carmakers' good days will soon be gone as their margins are narrowing while the ownership of data is predicted to become the future source of profits.
Global industry insiders foresee car users in the future not having to own a vehicle, since the younger generations, especially those from China, have a greater chance of using shared mobility services than owning a vehicle.
One day, major new car demands will come from car-sharing companies and mobility service providers.As a result, original equipment makers will be selling non-brand chassis, and automotive companies will have to be flexible on their future business models, according to the world's automotive leaders.
The future of the
automobile industry
was discussed at the Global Automotive Forum on Thursday.
The forum has been held annually for eight straight years since 2010 by an automotive committee under the China Council for the Promotion of International Trade. This is the third consecutive time the forum was hosted in Southwest China's Chongqing.
"On-demand intelligent driving in the future smart city will provide immense business opportunities," said Matthew Kardel, managing director of automated driving at Delphi Corp.
Vehicles are becoming more and more intelligent and connected,
so use of
vehicles
is going to generate large amount of data that could be monetized, according to Kardel. Estimates show that a vehicle could generate 2 to 4 terabytes data per hour when in service.
"Data is the new oil, from an aggressive perspective," Kardel said.
While big data generated by use of vehicles has burgeoned in recent years, the possible data owners-not only the automakers, but also the suppliers-are joining the game.
Kurt Lehmann, chief technology officer of Continental AG, said:
"Vehicles are more and more connected.
They have to be more flexible and adjust themselves according to the disruptive environment."
He recommended that manufacturers have an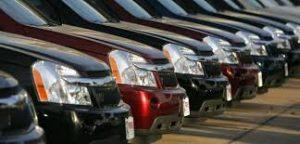 open mind on what the data means, and the benefits from big data will be enjoyed when players in varied fields collaborate.
The technology leaders of Continental and Delphi told the forum they are both eyeing the possibility of monetizing the data, despite the varied directions of partnerships.
The British automotive supplier, Delphi, announced in May that it would join BMW, Intel and Mobileye as a development partner and system integrator for their autonomous driving platform.
The four partners intend to deploy a cooperation model to deliver and scale solutions to the automotive industry and potentially other industries.
Continental, a German technology company, announced on June 1 its strategic cooperation agreement with Baidu Inc, one of the biggest dotcom companies in China, to work on autonomous driving and connected vehicles.
The two companies will explore collaboration in the fields of sensor systems and software for advanced driver assistance systems and automated driving.
One possible threat to the monetization of data lies in privacy and security, warned a senior executive at a consulting firm.
"The carmakers, suppliers, government bodies and car users own a fraction of the data, which they need to share among each other. So protecting data privacy and security and complying with local legislation will be the key to the business."