By Ben Bengtson
Tenants at a seniors residence in West Vancouver are being given the option to ditch their own rides in favour of joining a one of a kind car share program.
Kiwanis North Shore Housing Society announced Sept. 27 that it had partnered with Modo, a Vancouver-based car sharing co-op, to launch an innovative program at the housing society's Garden Village location in West Vancouver.
Effective immediately, residents who signed up for the program will have access to one of Modo's 2018 Honda Fits at a greatly reduced rate.
The partnership between a seniors residence and car sharing co-op marks a first for Modo, which was founded in 1997 and lays claim to having the oldest car sharing program in the region.
"What makes this program really different is that it's a dedicated car share program, and it's the only one like it," said Selena McLachlan, Modo's director of marketing and business development.
Garden Village residents will have the luxury of being the sole users of the residence's Modo vehicle.
Modo has struck exclusive usage deals with organizations in the past, but the recent partnership marks a first when it comes to joining forces with a seniors home.
McLachlan said the co-op members hope the partnership can encourage similar unions going forward.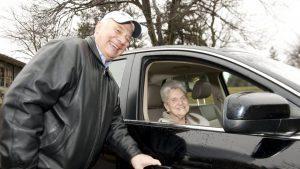 "We're hoping that other seniors organizations that have residential developments like this will look to Kiwanis as being a leader and setting the stage for what can be done," McLachlan said.
Kiwanis president Patrick McLaughlin said he was thrilled at the new partnership and at the opportunity it presents to residents.
The housing society, which operates seven residences across the North Shore that house approximately 700 tenants, had been looking into doing a car share program throughout the last year.
After connecting with Modo, the partnership was established quickly, he said.
"We contacted three car share companies and Modo was the only one that offered a program where you could secure a dedicated car for a particular use."
Kiwanis operates residences for seniors in need of below-market accommodation. For low-income seniors, making the transition from owning and operating a vehicle to using a car share could potentially save thousands of dollars every year, McLaughlin said.
"It represents a significant savings, but they still have the independence of having a car that they can go and get."
Two workshops were held over the summer informing Garden Village residents about the program and how they could get signed up. More than a dozen have enrolled so far. While the Kiwanis car share program is something of a pilot project for the housing society,  it's expected to grow, McLaughlin said.
"The other large one we have is up in Lynn Valley, it's a building we call the Kiwanis Lynn Manor and it has 200 residents in it right now. That's the next location that we would like to get a car share."