By Li Tao
Didi Chuxing last year beat the car-sharing business model's pioneer Uber Technologies at its own game, and bought out the New York company's China business to become the dominant app for hailing taxis or sharing a ride in the world's most populous country.
Less than a year on, Didi's dominance is being challenged by an unlikely source — about 40 smartphone apps that have sprouted in major Chinese cities since late 2016 for commuters to share bicycles.
Yes, bicycles. The two-wheel conveyance has become the most popular means of last-mile transportation from subway stations and bus terminals to final destinations. Users can pick them up anywhere, leave them anywhere, often for as little as 1 yuan per hour, sometimes for free, and occasionally — depending on promotions — receive cash prizes.
The change in transportation means monthly savings of 500 yuan (US$73), about 5 per cent of the salary of Freddie Tian, who works at an office in Futian district in Shenzhen.
He's taken to using the city's subway again, as the easy availability of shared bicycles lets him cover the 10 minutes from his apartment to the subway with ease. Formerly a frequent Didi user, Tian said he no longer takes the taxi.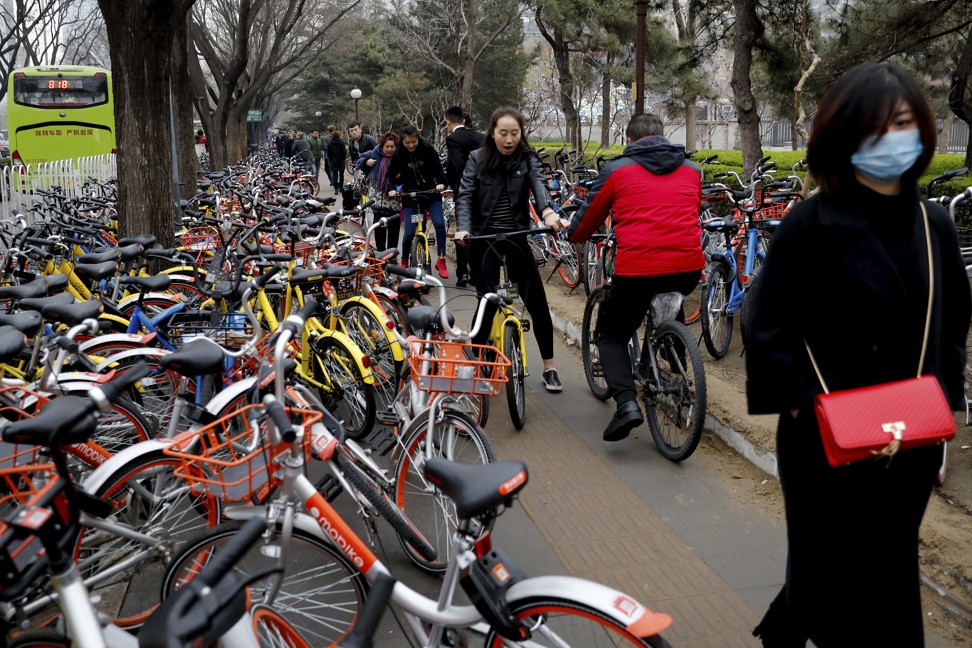 "I can get up a little later in the morning as I don't need to worry about traffic jams anymore," he said.
Tian is hardly alone in ditching taxis or shared car rides for the bicycle. Bicycles as a mode of transportation has doubled to 11.6 per cent of total transportation within a year, from 5.5 per cent, while the ratio by cars has fallen to 29.8 per cent from 26.6 per cent in the same period, according to an April report by Beijing Mobike Technology Co. and Tsinghua University.
The growth trend is explosive. The number of shared bicycle users will more than double to 50 million by the end of 2017, from 18 million at the end of 2016, according to Big Data Research, a Chinese consultancy.
To meet the demand, Beijing Bikelock Technology Co. has deployed 5 million of its yellow Ofo bicycles around China, and has even begun to expand its services to the US, Britain and Singapore.
Mobike, backed by the operator of China's largest social network, said it received 20 million orders on its bike-sharing platform everyday on average in the month of April, a record for the industry.
It has put nearly 4 million orange bicycles on the roads across the country, allocating as many as 200,000 each in major cities like Beijing, Shanghai and Shenzhen.
Didi didn't provide specific data of the orders it's received in the past few months since the emergence of bike-sharing apps. It's hedged its bets, by being an early investor in Ofo.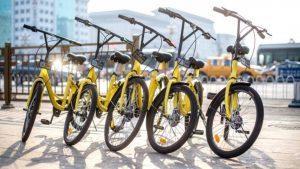 "Didi is a strategic investor in Ofo and has recently added the bike-sharing service to its main app because we see the potential of the business in catering to distinct short-trip needs of a segment of the population," the company said in an email response to the Post, adding that bike-sharing complements its one-stop mobility platform and the less-than-mature public transportation network with flexible and affordable last-mile alternatives.
Founded in 2012, Didi has 400 million customers across 400 Chinese cities. The startup company has more than 100 investors, among them Apple Inc, Tencent and Alibaba Group Holdings, which owns the South China Morning Post.
Ant Financial, the online payments platform headed by Alibaba's founder Jack Ma Yun, is also an investor in Bikelock's Ofo.
The three-year-old bicycle rental company has raised a total of US$650 million in funding, valuing it at more than US$2 billion.
Mobike's investors include Singapore's Temasek Holdings and Hillhouse Capital.