By City News Service, KPBS News
As controversy continues around dockless bikes and other vehicles cluttering sidewalks in San Diego, scooter operator Bird is floating a code of conduct it hopes rivals will adopt to ease tensions over the emerging technology.
Bird CEO Travis VanderZanden wrote an open letter to his counterparts at four bike sharing companies urging them to join him to "Save Our Sidewalks" by signing on to a three-pronged pledge that he says would help American cities avoid the plight of "out-of-control" bike sharing deployment in China. Huge piles of abandoned and broken bikes overrun the sidewalks in that country, he said.
The plan unveiled Tuesday calls for repositioning bikes and scooters based on rider demand, limiting the number deployed to city streets and donating $1 per vehicle per day to cities in which the companies operate.
Bird's proposal came the same day KPBS broke the news that the Little Italy Association has been using its maintenance crews to remove shared bikes from that neighborhood's center and line them up on a sidewalk adjacent to Interstate 5. The association's side-by-side placement of the bikes has at times blocked portions of the sidewalk.
Ofo, one of the main dockless bike-sharing companies in San Diego, said it would not join the pledge and derided Bird's proposal as motivated by self-interest. Ofo spokesman Taylor Bennett said Ofo is "actively" working with the Little Italy group to address its concerns.
"We encourage Bird to join us in working together with local governments before launch and support cities' desire to have a framework for safety in place before new products are released to the public," Bennett said.
Both companies have a track record of entering markets without official permission. The city of Santa Monica in December filed a criminal complaint against Bird, accusing it of operating without a license and refusing to comply with city citations, including orders to remove scooters from sidewalks.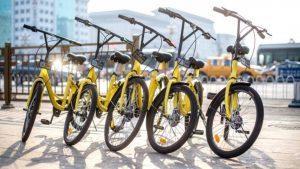 Bird pleaded no contest and agreed to pay more than $300,000 in fines and secure a proper business license. The company's agreement with that city also required it to run a public safety campaign on public buses, according to the Los Angeles Times.
Ofo similarly dropped a fleet of its own yellow bikes on the UCSD campus last year without asking university officials for permission. The university kicked the bike sharing company off campus and has since signed a partnership with rival bike sharing company Spin.
In San Diego, the main bike or scooter sharing companies operating in the city — LimeBike, Ofo, Mobike and Bird — hold the required business tax certificate, according to the mayor's office.
A Bird representative said the company "wants to work with cities on our shared goal of reducing traffic and carbon emissions. That is why we continually engage with the cities, campuses and communities in which we operate, and make sure that we are following all the rules of the road — just like any other business."
A spokesman for the San Diego mayor's office said the city has sent letters to each operator to ensure they're aware of the state and city laws that pertain to their businesses, including laws governing bikes, scooters, property and business activity in the public right-of-way and activity in public parks and beaches.
"We appreciate the proactive approach the dockless bike-sharing companies are taking to address concerns raised by residents and businesses," said Greg Block, a spokesman for Mayor Kevin Faulconer.
Dockless bikes proliferated in San Diego after the city attorney in January cleared the companies to operate in the city.
The City Council has not considered any new rules regulating the businesses, though existing laws prohibit parking bikes or scooters in a way that blocks pedestrian or vehicle traffic.
In his Tuesday letter, Bird's CEO said the company would pick up all of its scooters from city streets every night to inspect and repair vehicles as necessary and reposition the scooters "to where the vehicles are wanted the next day, so they are not cluttering our neighborhoods."
The company also pledged that it will not increase the number of vehicles in any city unless they are being used on average at least three times per day and will remove any underutilized scooters.
Additionally, VanderZanden offered to provide city governments $1 per scooter per day "so they can use this money to build more bike lanes, promote safe riding, and maintain our shared infrastructure."
A spokeswoman for the City Attorney's Office said that proposed arrangement appears to be a donation to the city, which must be made in accordance with the City Council's donation policy and reviewed by the city's lawyers.
The policy stipulates that donations must be used for city business, though donations can be restricted for certain purposes by the donor.
VanderZanden urged his counterparts at LimeBike, Ofo, Mobike and Jump to sign onto the pledge, but so far none have done so, according to Bird.