By Yingzhi Yang, Meng Jing, Coco Liu

Meituan will acquire 100 percent of loss-making Mobike for US$2.7 billion, according to a person briefed on the terms, who asked not to be named as the information was not public. Yicai, a Chinese news website, earlier reported the deal size.
Meituan CEO Wang Xing said in a social media posting that the Beijing-based company will "build a new future with Mobike." Hu Weiwei, a co-founder of Mobike, said in a WeChat post that "it is a new beginning" and that there's "huge space for imagination" to work with Meituan.
China's internet companies are expanding beyond their traditional confines as they seek to cross-sell products and services to their users.  Meituan is the world's fourth largest unicorn with a valuation of US$30 billion, behind Xiaomi and above Airbnb in the ranking, according to CB Insights.
Meituan started off as a group-buying portal, before it merged with Dianping, a restaurant recommendation site. The combined entity is now pushing into food delivery and recently introduced ride-hailing in several Chinese cities.
The deal comes amid the further consolidation of the bicycle-sharing industry in China and Meituan's ramped up effort to expand into the country's transportation-on-demand sector.
Bicycle-sharing has took off in late 2016 in China with dozens of startups placing millions of two-wheelers on city sidewalks, funded by venture capital money.
At stake is an industry that is potentially worth about 24 billion yuan (US$3.8 billion) by 2019, according to market research firm iResearch. Beyond the rental revenue and prospects for advertising, bike-sharing companies are also seen by Chinese tech giants as effective tools to promote mobile payments and to collect user data that in theory can be analysed for consumer patterns useful for a broader internet-enabled transportation industry that involves ride-hailing and the rental business of cars, motorbike and bicycles.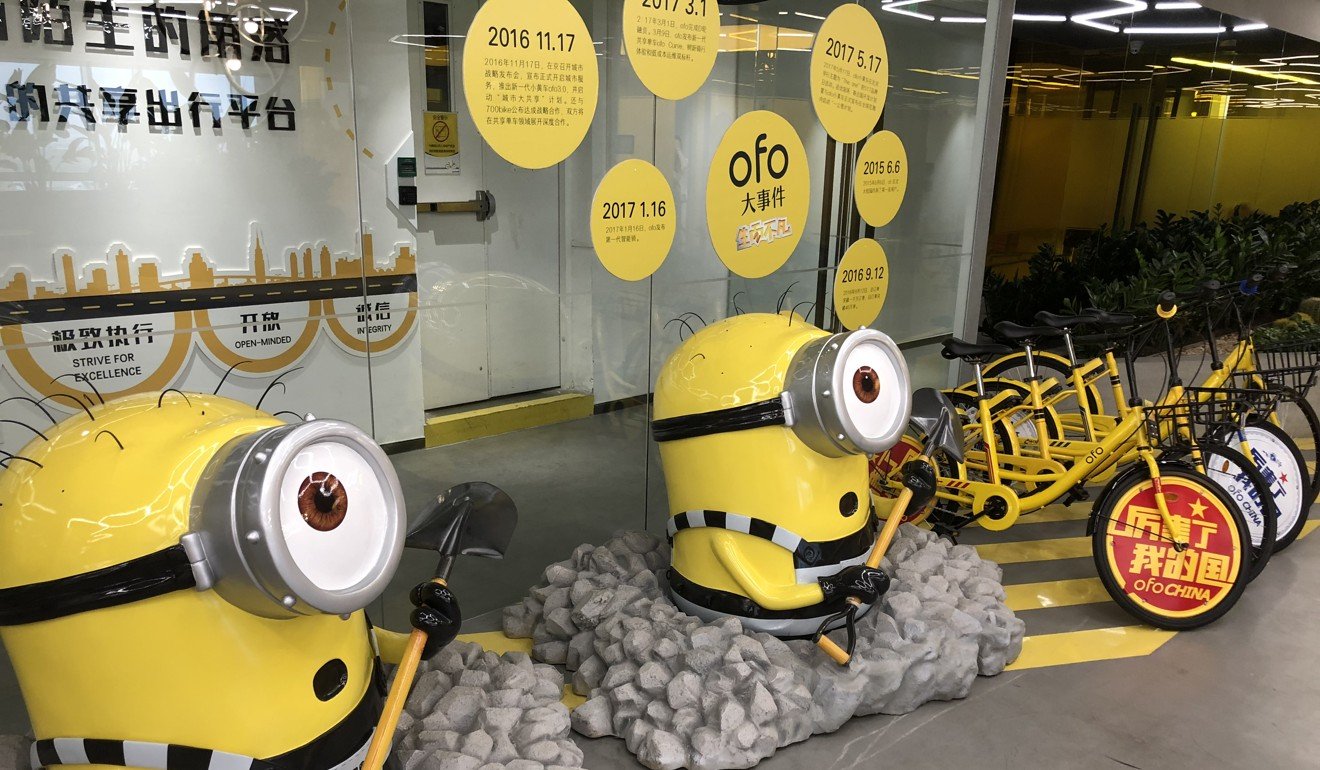 The acquisition will give Mobike a bigger backer in Meituan as it pursues market dominance in bicycle sharing against its competitor Ofo, according to Zhao Xiang, an analyst at Beijing-based consultancy Analysys.
"The tie-up with Mobike is also expected to help Meituan gain more customers data to help its push into transportation," Zhao said.
Mobike raised US$600 million last June in a financing round led by Tencent, which did not immediately respond to a request for comment on the Meituan-Mobike combination.
Mobike's chief competitor Ofo is backed by e-commerce giant Alibaba Group Holding, which owns the South China Morning Post.  Ofo said it did not have a comment for now, when asked how the Meituan-Mobike acquisition will affect its strategy. Alibaba also did not immediately comment.
The purchase of Mobike will add bicycle-sharing to Meituan's suite of services for its 320 million annual active buyers. In October 2017, Meituan-Dianping closed its Series C financing round, raising US$4.1 billion for future investment, according to a company statement.
The number of hotel room bookings on Meituan's platform exceeded 200 million in 2017 and the firm signed a global partnership with resorts chain Club Med to provide a one-stop vacation booking service.
-With additional reporting by Celia Chen and Zen Soo