By Martin Austermuhle
D.C. commuters are used to sharing cars and bikes. The next big thing: sharing scooters.
Waybots, a California-based startup, is rolling out an electric scooter-sharing service in D.C., and a second company will soon follow suit. The arrival marks one more step in the ever expanding market for transportation-sharing services in D.C., which run the gamut from car2go to Capital Bikeshare to five dockless bikeshare companies, which are wrapping up a six-month pilot program in the city.
Scooter sharing is basically what it sounds like. You use a phone-based app to find one of Waybots's yellow electric scooters, pay a fee — $1 to start, and 15 cents per minute thereafter — and use the scooter to get around. Once you get to your destination, you just leave the scooter for someone else to use.
Terry Owens, a spokesman for the D.C. Department of Transportation, says Waybots just soft-launched in D.C., and hopes to bring between 50 and 400 scooters to the city. The company is entering the market through the ongoing pilot program for dockless bikeshares.
"They are governed by the same terms and conditions as the bike companies," explained Owens, which includes limiting the number of vehicles the deploy and also sharing data with the city on their use.
Another scooter-sharing company, Bird, "will be launching in D.C. soon," according to a company spokesperson. It is already in operation in Los Angeles, where it is based.
Bikesharing and now scooter-sharing are part of what's known as "last-mile" transit options, which help people get from a Metro station to their office or home. Capital Bikeshare has been operating in D.C. since 2010, and the company now has 3,700 bikes at more than 440 stations across D.C., Maryland and Virginia.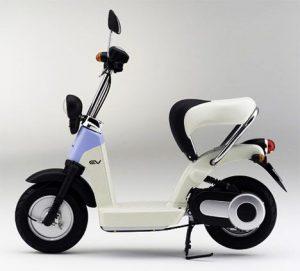 The new dockless bikeshare companies — Spin, Ofo, Jump, Limebike and Mobike — say they offer more flexibility since their bikes do not have to be locked or picked up at fixed stations like Capital Bikeshare.
But the bikes have also prompted complaints from people who say they block sidewalks, are easily stolen and have been found everywhere from local rivers to Metro platforms.
But according to DDOT, actual public complaints about the dockless bikes have been limited. Of 336 emailed comments about the bikes, DDOT classified 247 as "explicitly supportive" and 81 as "explicitly opposed."
The dockless bikeshare pilot is expected to wrap up by April, after which city officials will determine what type of permanent presence the bike companies — and possibly the scooter companies — will have in the future.