New Zealand bus and transport company Go Bus today marked a Southern Hemisphere first as Savy hit the road in Queenstown.
Using a smart phone app and the efficiencies of ride sharing, Savy will provide on-demand and affordable transport around Queenstown for the introductory flat fare of just $5.
Savy is powered by Via, the leading technology developer and provider of dynamic on-demand shared rides. First launched in 2013, Via powers over 1.5 million rides per month in major cities around the world including New York, Chicago, Washington DC, Paris, and Kent in the UK.
Queenstown is the first location in New Zealand, and indeed the Southern Hemisphere, to get Savy.
Users simply book a ride through the Savy app and are instantly matched with others going their way in a dynamically-routed Savy vehicle.
Savy is also different from other app-driven or shared-ride transport services in that it owns its fleet and employs only fully trained and officially vetted and endorsed drivers.
"Savy combines the ride-sharing efficiency of a bus, with the personal convenience of a taxi, all at an affordable price and in a way that's quick and easy to use," explains Calum Haslop, Managing Director of Go Bus, the New Zealand transport operator behind Savy.
"We're confident Savy fills a gap in the transport options currently available, sitting in a space between traditional public transport, taxis and community carpooling that is now more accessible through technology.
"In Queenstown, Savy answers to the area's challenges around providing transport offerings that are suitable to both residents and visitors, growing traffic congestion and dwindling carpark availability.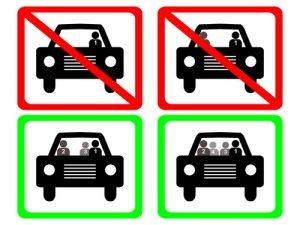 "These challenges are not unique to Queenstown of course, and we see plenty of scope in adopting this global solution to help address local transport issues in other New Zealand centres in future."
Savy utilises Via's smart algorithms, which seamlessly match multiple passengers headed in the same direction, and dynamically routes entire vehicle fleets in real time to meet demand. Via also developed the Savy rider and driver mobile applications, as well as state of the art operations management software.
"Our ground-breaking technology transforms public transit from a system of fixed routes and schedules into a dynamic on-demand network.
By allowing more people to share rides, Via is helping reduce congestion and emissions around the world, from New York to Paris, and we are excited to bring this successful model to Queenstown," says Daniel Ramot, Co-founder and CEO of Via.
Savy officially launches today in Queenstown with a fleet of six Savy vehicles on the go seven days week. Operating times accommodate early starts and late nights out: 6am to 11pm Sunday to Thursday, and 6am to 1am Friday and Saturday.
The current service area covers the Queenstown area including Arthurs Point in the north, Fernhill to the west, Kelvin Heights to the south and east towards Lake Hayes, with plans for expansion in the future. One-way trips are charged direct to the rider's debit or credit card via the Savy app at an introductory flat fare of $5.
Go Bus is New Zealand's biggest and most diverse bus operator, with 27 depots spanning the North and South Islands. It is 100% New Zealand-owned by Ngai Tahu Holdings Corporation and Tainui Group Holdings. 
The company offers a full spectrum of bus services, including metropolitan urban routes, school bus services, Special Needs Transport, tour and charter services. Go Bus provides contracted urban bus services to more regional authorities in the country than any other operator.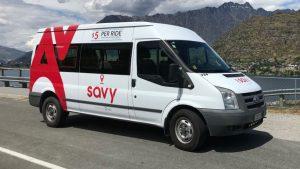 It operates a fleet of over 1,700 vehicles, including over 440 dedicated urban service buses, and employs over 2,000 staff.
Via is re-engineering public transit, from a regulated system of rigid routes and schedules to a fully dynamic, on-demand network. Via's mobile app connects multiple passengers who are headed the same way, allowing riders to seamlessly share a dynamically-routed vehicle
. First launched in New York City in September 2013, the Via platform currently operates in New York City, Chicago, and Washington DC, providing over 1.5 million rides per month, and is growing rapidly. Via also licenses its revolutionary on-demand transit technology to transportation operators, and partners with cities and transit authorities globally.