By Rachel Dovey
Uber is now running on two wheels as well as four. This week, the contentious ride-hailing company began letting San Francisco users reserve pedal-assist electric bikes through its app.
The idea, according to the New York Times, is that "people will see the bicycles as a cheaper and faster alternative — not a huge stretch of the imagination for anyone who has been stuck in Friday evening gridlock traffic in San Francisco."
The new feature comes courtesy of a partnership with Jump Bikes, a bike-sharing service that will offer 250 motorized bikes throughout the city.
"Having a greater variety of transportation modes at your fingertips helps make it increasingly easy to live life without a car," the company said in a statement posted to its website. "We're particularly excited about bikes because they can provide a convenient, environmentally friendly ride even in dense cities where space is limited and roads can be congested."
Not too surprisingly, the pilot will feature dockless bikes that can be dropped off at any public rack in a zone designated by the app's map.
Some officials have criticized the new model because it tends to rely on upfront venture-funding, and can create a right-of-way nightmare, with discarded bikes strewn haphazardly along sidewalks and in streets.
The model's U.S. spread has been compared to Uber's move-fast-and-break-things early days — although operators seem to have begun treading with more care over the last few months.
Dockless providers in Seattle and New Orleans have partnered with public agencies; others have signed code-of-conduct agreements with organizations like the North American Bike Share Association.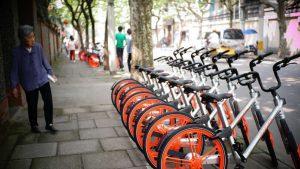 Uber declined to detail to the Times whether the San Francisco pilot was a preview of things to come in other cities, but it is another indication of the company's desire to move beyond its ride-hailing origins.
Uber has also been working on autonomous trucking services and expanding into the food delivery market with Uber Eats.
And then, of course, there's that promising first/last mile market that Uber has been racing to conquer. As the Verge recently reported, the addition of bikes "raises the possibility that other transportation options, like subways and buses, will also be integrated into the ride-hail service's app down the line."