Users caught for parking their shared bicycles indiscriminately more than three times in a year will be banned temporarily from renting from all bike-sharing operators, following amendments made to the Parking Places Act passed on Tuesday.
The new law, tabled in Parliament earlier this month, places operators offering dockless shared bikes, personal mobility devices (PMDs) and power-assisted bicycles under a licensing regime.
It will give the Land Transport Authority (LTA) more teeth to fine or sanction errant operators, such as by revoking their licences or curtailing their fleet size, TODAY reported on Tuesday.
Applications for bike-sharing operator licences will commence in the middle of the year, and will be awarded by the fourth quarter of this year, the LTA announced earlier.
Under the licensing regime, the authority can direct operators to impose a time-limited ban on users caught for parking their shared vehicles indiscriminately more than three times in a year. The exact length of the time-limited ban, however, is unclear.
"The majority of users are responsible and park the shared vehicles in designated parking areas. However, there are irresponsible and inconsiderate users who do not do so. It is important to hold them accountable," said Senior Minister of State for Transport and Health Lam Pin Min in Parliament on Tuesday.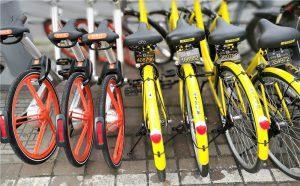 Bike-sharing operators will also be able to share information of recalcitrant users who have improperly parked bicycles in public places among themselves, with Lam saying the information sharing "will be limited to the extent necessary for implementing the collective ban".
There are currently around 100,000 shared bicycles here, across six operators: oBike, mobike, ofo, SG Bikes, GBikes and bikesharing.sg.
Failure to comply with the licensing regime can result in operators facing financial penalties, such as fines of up to S$100,000 (2.4 million baht), reductions in fleet size, suspension, or even a revocation of their licence.
Currently, the LTA imposes an S$500 fine on operators for every indiscriminately-parked bicycle that is not removed within a stipulated time.
Since the middle of last year, the LTA has issued more than 2,100 removal notices and collected about S$180,000 in fines and administrative fees from the operators.
Last month, Lam also said in Parliament that a total of 341 of indiscriminately parked bikes had also been impounded since enforcement actions commenced in May last year.