Global Mobility on Demand Market is set to grow from its current market value of more than $100 billion to over $200 billion by 2024; according to a new research report by Global Market Insights, Inc.    
The development of travel & tourism industry is expected to be one of the major drivers of the industry. According to the World Travel & Tourism Council, in 2016, the direct contribution of this sector to GDP was USD 2,306.0 billion, that is approximately 3.1% of the total GDP. Transport forms a vital component of the travel industry for the sustainable growth of the sector. Using mobile technologies, travelers are seeking more freedom of movement, demanding advanced mobility solutions such as car rental services and positively impacting the mobility on demand market. Furthermore, several tourism & hospitality companies are offering services such as car rental and ride-hailing. For instance, Active African Vacations Ltd. has partnered with Self Drive Uganda to provide car rental services to the tourists.
Mobility on Demand Market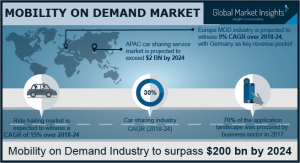 The smart cities initiatives by the governments of various countries including the U.S., Spain, Ireland, India, Singapore, and Sweden are expected to speed up the mobility on demand market expansion. The governments are providing incentives to the people to share rides while commuting and converting the existing public fleet of vehicles to electric vehicles. For instance, under the smart city project, the Vienna Model Region is developing e-mobility on demand to integrate the transportation system with the e-car sharing model effectively.
The legalization of ride-hailing services, such as Uber and Grab, by the government of Malaysia will drive the mobility on demand market growth in the region. The government of Malaysia has made amendments to the Commercial Vehicles Licensing Board (CVLB) Act and Land Public Transport Act to allow the ride-hailing operators to work as an intermediary. The intermediary business license will allow these operators to facilitate transactions and booking of these services.
Growing concerns regarding the privacy and security of the customer data are expected to challenge the mobility on demand market growth. The penetration of smartphones and increasing internet usage is encouraging the users to use applications that open loopholes for cyber threats.
The mobility on demand market in business applications is poised to grow at a significant pace as these services help the corporate organizations to reduce the dependency on private fleets. Also, these services allow the organizations to significantly reduce fleet-related costs and optimize the fleet management. Companies such as Omoove and Ubeeqo provide these services to the corporations that are tailored according to their specific requirements.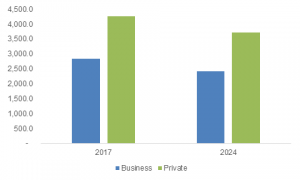 UK car rental market size, by application, 2017 & 2024 (USD Million)
The Germany mobility on demand market is expected to grow over the next six years due to the stringent regulations imposed on taxi drivers such as the obligation to operate taxi service and obligation to set rates. Increasing environmental consciousness and openness to innovations among the consumers are expected to drive industry growth. Several automobile companies in the country are entering the mobility on demand market to regain the declining positions due to the reduction in car ownership. For instance, BMW Group entered the industry by forming a subsidiary, DsriveNow, which is a car sharing company.
Some of the vendors in the mobility on demand market include Avis Budget Group, Hertz Corporation, Car2Go, Didi Chuxing, DriveNow GmbH & Co. KG, and Enterprise Rent-A-Car. The industry is characterized by the presence of several global & regional players and common strategies adopted by the players include mergers & acquisitions and partnerships. For instance, in March 2018, Daimler AG acquired the European car sharing platform, Car2Go by acquiring a major share from Europcar, a car rental company. In March 2017, Fox Rent-A-Car announced the acquisition of cloud-based P2P car sharing platform, JustShareIt.
Source: https://www.gminsights.com/pressrelease/mobility-on-demand-mod-market