By 
Tu-Uyen Tran
FARGO — A greenway running along the railroad tracks to the Red River and way out west of town. A car-share service. Tree-lined streets. A day center for homeless people seeking shelter.
These are some of the dozens of items on the wish list that's found in the downtown master plan that city leaders approved Monday, Dec. 4. Most city commissioners present said they liked a lot of things in the plan though not everything.
Commissioner Tony Grindberg said he had been skeptical at first about the need for such a plan. "In some ways I've been proven wrong because this has been a very comprehensive effort that has really brought a lot of engagement from the community."
The 158-page plan lays out a shared vision for downtown, putting in print many of the things people who care about the district have been talking about, such as more things to do, more parking, more routes for pedestrians and bicyclists, more affordable housing and more greenery.
To get there, the master plan includes a cornucopia of ideas. Here are a few of them:
Greenway loop:
 This stretched out park would follow the path of both of downtown's railroad tracks from the river to the trail expected to be built along the path of the Fargo-Moorhead flood diversion for a 14-mile loop. The park would feature trees, shrubs, streams and ponds that form a barrier between people and trains. The greenway would provide a path for bicyclists and pedestrians, rainwater storage to reduce the threat of flooding, and greenery to liven up the urban landscape.
Car shares:
 Like the bike-share program already present downtown, a car share is a very short-term car rental. The plan calls for the city to invite companies such as car2go, Zipcar and Enterprise to provide such a service downtown. Studies show each car in a car share removes nine to 13 private cars from the road, according to the plan, which could reduce the pressure on downtown parking. Building more parking ramps or parking behind buildings are options as well, but the plan recognizes those things won't be enough to meet demand. Demand reduction measures include encouraging employers to adopt carpool programs or using a bus to shuttle commuters to and from parking lots outside of downtown, something the city is already doing with the Link bus between downtown Fargo and the Moorhead Center Mall.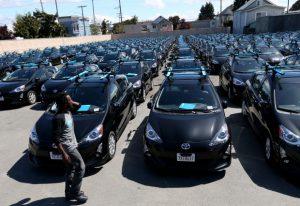 Homeless day center:
 Because of the services aimed at low-income people downtown, many homeless people hang out downtown. But because shelters are only open evenings and soup kitchens are only open at lunch time, the homeless often have nowhere to go in the morning. A day center would provide a place to get out of the cold, store belongings and even do laundry.
Townhouses and duplexes:
 Two kinds of homes dominate downtown and the surrounding neighborhoods: apartments and single-family homes. The plan says a variety of housing is needed if the area is to continue attracting more residents, especially with millennials aging and increasingly looking to buy homes. To get there and preserve single-family homes, the plan calls for townhouses and duplexes to be allowed in commercial areas at the edge of downtown. These areas include the University Drive corridor and areas between Island Park and Main Avenue.
Alley stores:
 The plan says more developers should be encouraged to provide alley-facing commercial spaces, something only the Kilbourne Group appears to be doing currently. Downtowners want more stores in the area, but that's difficult because retail revenue is flat while rents are rising, according to the plan. Because commercial spaces are typically very deep, merchants usually have a hard time using all the space. Alley spaces would allow landlords to further subdivide commercial space and allow more merchants, especially start-ups, to afford being downtown.
Blue-green infrastructure:
 Downtown is mostly gray now, but the plan envisions more ponds and greenery. They serve to beautify the area, but they also reduce the risk of flooding caused by heavy rainstorms, something city staff has said occurs more frequently than river flooding and from which the city has limited protection. Besides retention ponds, the plan suggests putting water storage basins under the streets and building green roofs, basically rooftop gardens, that can absorb water. These basins can be used to water trees planted along the streets, which would provide shade and reduce the heat-island effect in which heat absorbing pavement makes urban areas hotter in the summer and increases the need for air conditioning.
Bump outs:
 Sidewalks could be livelier if there were space for more activities, according to the plan. That's where "bump outs" come into play. These are extensions of existing sidewalks into space that might otherwise be used for parking, such as the ones at the corner of Broadway and Third Avenue North. Businesses can also build temporary bump outs such as the little deck that's appeared in front of Vinyl Taco. The idea is to use the space for dining, socializing, bike parking and trees. A photo from Holland, Mich., in the plan shows a fireplace and seating on a bump out, suggesting a potential for year-round use.
Bike lanes:
 There are few dedicated bike lanes on downtown's narrow streets now, but the plan suggests that there's enough public interest to provide more. Several street plans show ways this can be done, though often that comes at a cost to on-street parking. Second Avenue North, for example, now features two lanes for cars, parallel parking on one side of the street and diagonal parking on the other. Diagonal parking allows more cars to park but takes more space. The plan, seeking to balance the needs of drivers with bicyclists and pedestrians, would convert that parking to narrow parallel parking to make space for bike lanes.
On the web: To see a copy of the plan, go to 
www.fargoinfocus.org/learn-more.