Ride-sharing service is no longer just a pipe dream in Dhaka, the capital city of Bangladesh, as people can now use mobile apps to easily get a motorbike delivered to their doorstep in minutes.
A handful of companies have already started app-based on-demand motorcycle ride-sharing services in Dhaka and elsewhere in the country, which are known for inadequate road systems and public transport services.
In Dhaka, one of the most densely populated cities in the world with a population of about 15 million, a substantial portion of the day's working hours are wasted on the streets due to traffic jams, which indirectly adversely impacts the country's economy.
Against this backdrop, app-based motorcycle ride-sharing service providers like Pathao have proved to be quite popular as they take users to their destinations by threading through the heavy traffic.
Rizwan Ahmed Rafi works in a private company. He regularly rides a motorbike and can swiftly skim through traffic.
"My office is located at Banani in Dhaka. Every day I have to come to the office and in the past it was very difficult to get here," he said.
"I had to use three or four different modes of transport for just one journey. I'd use buses and rickshaws. Sometimes it was unbelievably difficult," he added.
He said the buses were so crowded and slow due to the heavy traffic that it almost made no sense catching one at all.
"Thankfully, the app Pathao has made my commute to work far more easy these days and along with other uses we can be far more productive at work, because we can save so much time that was once wasted stuck in traffic," Rafi said.
He added that upon sending a request via the app just before leaving home or his office, a rider would arrive and swiftly drop him off at his desired location.
"There are no problems with the fees as the service is relatively inexpensive. As well as being a more efficient worker I can also spend more time with my family. It's certainly a win-win," he said.
For rider Asif Ahmed, the service created an opportunity for him to earn some extra money before and after office hours.
Ahmed likes to work as a rider as he can work according to his own schedule.
"I am a private service provider. Every day, I share a ride on the way to the office and on the way back from the office. By working this way I earn 15,000 taka (about 180 U.S. dollars) a month," he said.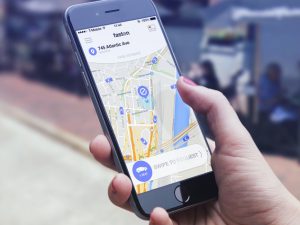 For Sabnaz Afroz, a female rider who began to work as a rider in 2017, such a service came as a big blessing.
"This is because when I was a student in Dhaka, I had a lot of problems in earning money for my studies," she said, adding that, "it helped me a lot as a source of income."
"I've finished my degree and I am now studying for my master's without having to worry too much about money," she said.
Operators said the ride-sharing services are fast-gaining popularity in urban areas with the rise of both users and riders day by day.
Riaz Uddin Ahamad, director and head of rider acquisition at Pathao, said app-based ride-sharing services have not merely benefited the riders and their users but also the entire motorbike industry.
He said motorbike traders are benefitting from the growing popularity of the services.
"So far I understand the demand for motorbikes, especially those from China, are on the rise in Bangladesh. Chinese companies like Lifan are now exporting more products to Bangladesh," he said, adding that "due to the reasonable prices of Chinese motorbikes, our younger generations can better afford to buy them."
"And with their Chinese motorbikes they can engage themselves with the app-based on-demand motorcycle ride sharing services," said Ahamad.